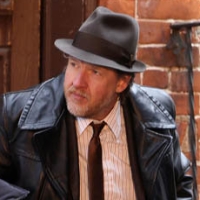 Some exciting Gotham news for you all; new photographs from the set of the series have surfaced online. Set in Gotham City before Bruce Wayne becomes our favourite crime-fighting bat, we've now seen Ben McKenzie as Detective Jim Gordon, and his partner Harvey Bullock, played by Donal Logue.
Robin Lord Taylor's Oswald Cobblepot, known to a lot of fans as the name that will later become iconic villain, the Penguin, is also pictured, along with what seems to be a copy of the Gotham Gazette sporting a rather interesting title.
The Gotham cast also includes Camren Bicondova as Selina Kyle, Zabryna Guevara as Captain Essen, Erin Richards as Barbara Kean, Sean Pertwee as Alfred Pennyworth, Robin Lord Taylor as Oswald Cobblepot/The Penguin and Jada Pinkett Smith as Fish Mooney. Gotham, executive produced and written by Bruno Heller, (The Mentalist) will be airing late 2014 or early 2015 along with other DC Universe based shows, Constantine and The Flash.