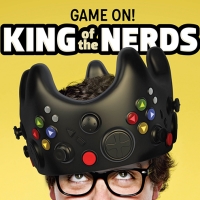 For anyone who isn't familiar, 'King of the Nerds' is a TV show on TBS. The basic premise is eleven 'nerds' living in a house named 'Nerdvana'. Every week, these nerds must compete in challenges known as the 'Nerd War'. They're divided into two teams, and whichever team loses the 'Nerd War' must send home a team member. Two members from the losing team compete in a deciding challenge known as the 'Nerd Off'. Whosoever loses this challenge is sent home immediately. Both teams chose a member to send home, meaning the losing team can take it as an opportunity to get rid of some dead weight from their group, and the winning team can take this chance to get rid of one of the stronger players in the game.
All in all, it's very enjoyable to watch. Yes, there are a lot of cringeworthy moments on the show, but I find myself relating to a lot of the contestants. This year sees the start of season 2 of the show, with 2 episodes down. What I really like about the show is that they take in every kind of 'nerd'. We see NASA scientists competing against self-proclaimed Pokémon masters in cosplay contests, broom riding, fantasy knowledge and even challenges that focus on complex equations. There's so much diversity and it really welcomes all types of nerd-dom together. 
Perhaps my favourite part of the show are the guest judges. These include Yaya Han, George Takei and Bill Nye, amongst many others. Contestants are graded on creativity, knowledge, performance and basically every other aspect of competition you can think of. This season's contestants are already creating drama and making sure they're focused on the crown. 
Katie – a roboticist and puppeteer whose work has appeared on Broadway. 
Xander – a vlogger, graphic designer and LARP enthusiast who lost 100 pounds by playing a popular dance video game. 
Kayla – an ice hockey player who holds a master's degree in space studies. She believes she will reach Mars one day. 
Josh – voted the People's Nerd by fans. He is a game vlogger who has nearly 700,000 subscribers. He enjoys nerdcore rapping and is a world competitor in card games. 
Kelsey – a quadlingual Japanophile. She is interested in playing video game music on the piano, keeping up with fantasy/sci-fi novels and swing dancing. 
Chris – a structural engineer who loves to travel. He aspires to work in the space-exploration industry. 
Mary Kate – an aerospace engineering student who is interested in rocketry, costuming and medieval armored combat. 
Jack – a bioengineering student and fencing and chess champion. He enjoys watching anime in Spanish, Portuguese, Chinese and Japanese. 
Nicole – a chemist, gamer and former marching band member. She currently competes in a Milwaukee roller derby league. 
Zachary – a novelist, hardcore gamer and toy merchandiser. He has memorized more than 300 hours of musical lyrics in genres ranging from J-pop to rock.
Brian – a library science scholar who enjoys German-style board games and discussing 18th-century European history. At one time, he had 100 books checked out from the Yale library.