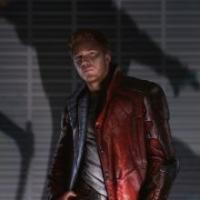 Full Guardians of the Galaxy Trailer!
Having premiered on Jimmy Kimmel Live! the Guardians of the Galaxy trailer is finally here. So far we've only seen still shots or leaked footage but now the trailer reveals a lot more of the story, which sees five outlaws join forces to save the galaxy from Ronan the Accuser, Nebula (daughter of Thanos), and The Collector.

Chris Pratt introduced the trailer on Jimmy Kimmel Live! which showed Star-Lord stealing the Orb we've heard so much about, An introduction which shows all five being arrested on Xandar, (home of the Nova Corps) as they'r processed for incarceration.
Check out the full trailer here for our first real look at Star-Lord, Gamora, Drax, Groot, and Rocket Raccoon. Guardians of the Galaxy hits theatres August 1, 2014.
We think it looks really cool.
Have a look yourselves and let us know.
Watch the full trailer below now!