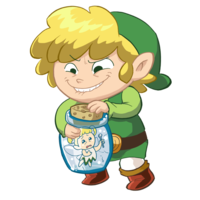 After the massive announcement of Little Mac from Punch Out as a new character in Smash bros, we got something a little more low key today, but still interesting non the less. The game director Masahiro Sakurai has been leaking a lot of pictures featuring new additions like assist trophies or items over the last few months and recently he sent out a picture on Miiverse. The latest picture features Peach and Bowser on the Super Mario Galaxy stage but it's what Bowser is picking up is that's really interesting.
This is the latest item announced, the 'Fairy Bottle' from the Legend of Zelda series.
In his message on Miiverse, Sakurai stated "Hey look, a bottle!! This is a special item that can even heal fighters who have accumulated over 100% damage." This could mean that the bottle is quite a powerful healing item, as it's basically a one time full heal, which hasn't appeared in the Smash Bro's series yet, if true then I can imagine this item being a very interesting power struggle element in battles.
For more info you can visit the official site! Super Smash Bro's Wii U and 3DS will release in 2014.