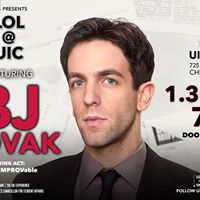 B.J Novak to Play Smythe in Amazing Spider-Man 2.
While we've all known since March 2013 that B.J. Novak (better known for his role as Ryan Howard in "The US Office") would be in "Amazing Spider-Man 2 " his role wasn't known until a tweet Monday afternoon from director Marc Webb that named Novak's character as "A. Smythe." Spider-fans's will know this means that Novak is playing Alistair Smythe, a long-running character in the Spidey comics.
Smythe was first introduced in 1985's "The Amazing Spider-Man Annual" #19, is the son of villain Spencer Smythe, creator of the infamous Spider-Slayers. In the comics, Alistair took over his father's Spidey-hunting work, and eventually transformed himself into an "Ultimate" Spider-Slayer. Recently playing a big role in writer Dan Slott's run on both "Amazing Spider-Man," and later in "Superior Spider-Man," Alistair Smythe was also a frequent villain in the 1990s "Spider-Man" animated series.
The movie, the first of at least three planned sequels to 2012's "Amazing Spider-Man," was already known to have multiple villains in its cast: Jamie Foxx as Electro, Paul Giamatti as The Rhino, Chris Cooper as Norman Osborn and Dane DeHaan as Peter Parker's friend Harry Osborn, who seems to take on the Green Goblin identity in the film. The film also contains nods to villains Michael Morbius and Venom.
"Amazing Spider-Man 2," starring Andrew Garfield in the title role, debuts in theaters on May 2. A new extended trailer debuted recently during the Super Bowl.