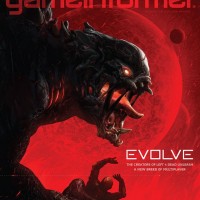 Turtle Rock Studios reveals "Evolve"
Turtle Rock Studios, the developer who brought us Left 4 Dead have recently revealed their newest title, Evolve. With a cover story over at Game Informer, the developers dropped a whole bunch of news about the title including gameplay elements that will consist of 4 players being tasked to destroy an alien in a space ship.
The catch is, there is a 5th player, who controls the alien. The longer the matches last without the 5th player dying, the alien grows larger and more powerful, so the game will depend on a massive amount of power creep, which is a very interesting idea.While there is only one alien, the team of humans must work together with their own separate abilities to take the beast down. Knowing Turtle Rock Studio's talent for this type of game, I cannot wait to see what they pull out of the bag for this one.
The game is being published by 2K Games and is to be released on  PC, Xbox One, and PlayStation 4 this fall. Head on over to Gameinformer as they will be revealing a whole lot more about the game over the coming month!