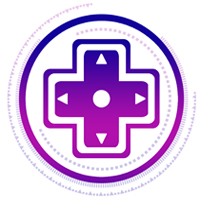 The Arcade Review Of 2013 Part 2
JULY
Forget Independence Day; July 4th was all about one day. Well actually it was four days, as the mighty AcradeCon descended upon the Ballsbridge Hotel with an army of cosplayers, otaku, furries, trekkies, fanboys and girls and a raft of awesome special guests that made it the best event in the Con's brief history. ArcadeCon 2014 promises to be even better, so keep your eyes peeled on this space for more info from the fantastic Con staff.
The treatment of women – this time fictional – in Film and TV narratives was discussed in July in the first in-depth part of the excellent Beyond Refridgerators series. The article used the treatment of female characters in our favourite cultural texts to shed light on how societies can tend towards bias and bigotry.
"The sad truth is we all act as though some people matter and some do not. The false binary of male vs. female is just one example of society's compulsion to divide humanity into "us" vs. "them""
A harsh truth, but no less impactful for that.
While ArcadeCon was wowing the masses in July, some other fly-by-night ComicCon thingamy had happened over in San Diego, and in an act of charity, we collected a few of its slightly better moments for you to enjoy.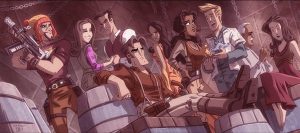 Continuing July's feat of multiple nerdgasms was news that Firefly would return! And we could be in it! Unfortunately it wasn't news that they were recasting the seminal sci-fi TV show, but that the property was getting the MMORPG treatment, with much Wacky Fun promised for fans of the show and spin-off movie Serenity, which are many and vigorous.
AUGUST
The first month of the fall saw more Con-ly goodness with the announcement of the Arcade team's presence at Dublin City Comic Con to enjoy all the fun and games DCC had to offer, and also to meet and greet with fans and aspiring contributors. 'Cause we're cool like that.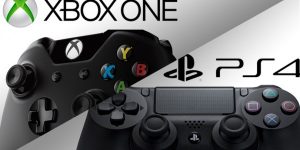 The fisticuffs between Sony and Microsoft continued throughout the year, and Alan gave us the tale of the tape on both the PS4 and Xbone, with a full rundown of the specs of both machines and their respective launch titles. If you were thinking of going gen 8, this was a must-read.
Nintendo waded in with its own new release, the Nintendo 2DS. A giant leap forward in 3D technology, the handheld let you enjoy all of Nintendo's 3DS titles in GLORIOUS 2D! And if that sounds sarcastic, it isn't. 3D needs to go away, and this machine was a step in the right direction.
Peter Capaldi became the 12th Dr. Who in August. "Who?" I hear you cry? Dr. Who. "No, WHO is Peter Capaldi?"…I'll stop now…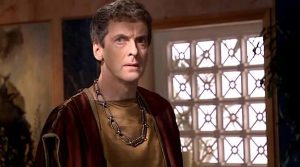 Probably best known for his role as foul-mouthed spin-doctor Malcolm Tucker in BBC's awesome series The Thick Of It, the Scot actor's appointment caused consternation among fans of the younger modern Whos and polite curiosity for Whovians versed in the older gents who portrayed the Time Lord in his previous classic outings, though both are guaranteed to tune in just to see what happens.
On a Side Note, check out the hilarious political comedy In The Loop to see Capaldi take part in a threatening swear-duel with the late James Gandolfini. It's Dr. Who vs. Tony Soprano!
Naomi got the chance to get nerdy and fun with Bowling For Soup guitarist Chris Burney in one of the top interviews the site had in August. Among other things, we learned the following; Chris loves Captain America, disliked the Burton/Schumacher Batman movies, and at the time of writing had at least $4 US and a free wallet to his name.
Also in August, the verdict came in on Hugh Jackman's second standalone Wolverine picture, and I got to take a peek at new Cloud-based music video-maker app Rotor.
SEPTEMBER
Four powerful, terrible words uttered in a YouTube video brought home the awful dangers of drink driving, the struggle with depression of many young people worldwide, and the horror of death in one fell swoop. The "I Killed A Man" video was a startlingly frank confession by Matthew Cordle of the alcohol-influenced motor vehicle accident he caused, that tragically took another man's life. Whether you viewed it as a brave act of admission or a guilty man trying to mitigate his prison sentence, there's no doubting the stirring nature of what Cordle did.

The month also gave rise to the loss of two legends. Hayao Miyazaki, the gentle genius behind Studio Ghibli, home of the wonderful likes of Spirited Away and My Neighbour Totoro, announced his retirement from animation, and Nintendo supremo Hiroshi Yamauchi sadly passed away at the age of 85. Both men touched peoples' lives in different and profound ways, and the wonderful legacies they left behind for lucky audiences and fans to enjoy will continue to weave their magic for years to come.
The big question on Marvelites' lips in September was "Is Agents Of S.H.I.E.L.D. any good?" Anthony certainly thought the pilot stood up to the test, but whether the show itself will stand the test of time remains to be seen. Nevertheless, Marvel fanatics slept sounder under their Avengers bed-sheets after reading this.
 What Does The Fox Say? He says go away you stupid, unfathomably popular parody song!
Also hiding among the September news and reviews smorgasbord were Duke Nukem creators' lawsuit against Gearbox over monies owed on Duke Nukem Forever being thrown out in the most undignified manner, The Arcade's right-in-the-middle coverage of the GTA V midnight launch, the Empire State Building being turned into a giant TARDIS, and more Batman vs Superman news when new Wonder Woman joined the cast of the mega-budget sequel to Man Of Steel as DC Films seemingly attempted to reboot and sell audiences on three characters in one film.
OCTOBER
October is the month of scares, and Therèse put the shivers up many a gamer's spine with her chilling account of gaming's urban legends. Just one look at Herobrine is enough to give you sleepless nights. And whatever you do, 7-12 year-olds, STAY OUT OF LAVENDER TOWN!!
Scarier still was the brutal, Hostel-esque torture that is "Chinese Food." The spiritual sequel to Rebecca Black's "Friday," this abomination of a so-called song about the titular food comes accompanied by a video that kind of insinuates that singer Alison Gold spent the night with a man in a panda costume. Remember that scene with the dude in the dog costume from The Shining?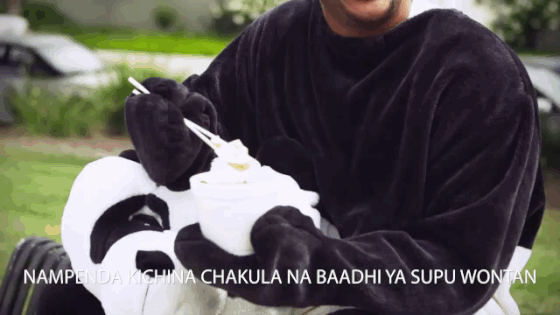 *shivers*
Among the big stories was the announcement of game development virtuosos Square Enix's next big project. The Collective promised to use crowd-funding site Indiegogo to gauge audience interest in game ideas, with Square putting the funding behind whichever game got the vote from the people. Ciaran was sceptical about the success of the idea, but in the wake of poor sales of Square's previous three games, felt it was worth a shot.
The issue of Cosplay and Consent continued to cause discussion and debate throughout 2013, and Tendai expanded on the Hug Pillows controversy earlier in the year to look at some of the insulting, often degrading treatment that many cosplayers suffer, women and men alike. Clothes may make the man/woman, as the saying goes, but that still doesn't make it okay to touch them without permission.
NOVEMBER
Looking for a place to kick back, relax and enjoy treats while indulging your love for all things geek? Naomi found it in November in the guise of Scotland's Geek Retreat Cafè, which featured, among the cookies and cosplay, a cracking atmosphere and a warm, receptive clientele. Should hopefully be a geek Mecca in years to come.
So in the first half of this piece, there were different contenders for different kinds of stories of the year, but the undoubted, unchallenged WINNER of BEST Story Of The Year was this heartwarming tale of Miles, a terminally ill 5-year-old whose wish it was to be Batman for a day, and the people of San Francisco duly came through by turning the city into Gotham and staging an elaborate adventure to fulfill the young boy's dream in high style.
If you didn't feel a little better after reading this story, then you are probably a zombie.
Just about the worst story of November was Xtra-Vision's cack-handed attempt to dig itself out of trouble by squeezing Xbox One pre-order customers, forcing them to purchase an "Xtra" game before handing over the console bundles ordered months in advance. Aside from being illegal, it was a major PR blunder by a franchise that was treading water all year. They would issue an apology, retract the practice, and join forces with HMV later in the year.
The issue of gender in geek culture was the hot editorial topic on the site in 2013, and just when it seemed everything had been said, Tendai's thoughtful, tragic and personal account of the struggles of women of colour both fictional and real in the Caucasian and male-dominated world of geeks looked at it from a new angle and discussed the issue of race that comes up surprising rarely in a culture typically concerned with battling aliens of one kind or another.
Also in November, Naomi continued her busy Winter travels to visit the Dr. Who 50th Anniversary Celebration, Square Enix announced another pioneering project, Project Flare, and we had reviews of Gravity (great) GTA V (great) and Batman Arkham Origins (Batman), a review which also marked the birth of the new ArcadeTV feature, allowing you to see the Arcade staff in all their "glory" as they give their views on the latest releases.
DECEMBER
As ever, December was packed with STUFF in the run-up to Christmas and the close of the year, and editing it down was nigh-on impossible. Here were the biggest, best and worst moments to come out of the manic activity that took place on the site.
The console war between Sony and Microsoft began in earnest and took some strange twists along the way. Xbox won the Black Friday sales madness, but, we revealed, PS4 outsold the rival console over the entire month of November; The worst happened when news arrived that a 22-year-old man was killed for his PS4 in an attempted robbery gone horribly wrong, tarnishing the excitement and console fever that had erupted since its release; and Xbox gave some hope for good things in the new year, announcing they would be launching an original TV series service that owners could view on Xbox Live.
The gender issue reared its ugly head again too, with this disquieting story about Zoe Quinn, the indie developer of Depression Quest – a unique game that aimed to inform and educate people about the disease of depression, and help depression sufferers – receiving horrible and frankly confusing abuse from the "keyboard warrior" section of the gaming community based purely on her being a woman. Perhaps they were looking in a mirror when they wrote some of those insulting things, since most of the names they used describe the authors of the abuse perfectly.
There were reviews and previews aplenty in December as Christmas tentpoles and next year's fodder were pimped to the moviegoing masses – Doctor Who got a 50th birthday gift of top marks from us, with The Day Of The Doctor receiving not just 10 out of 10, but 11 out of 11!; The "Amazing" Spider-Man 2 theatrical trailer dropped, providing some interesting story beats and some (hopefully unfinished) visuals to whet the appetite of Spider-Fans; Bryan Singer, promoting his time-travelling X-film Days Of Future Past, did a little future-gazing himself when he hinted that Wolverine and co. would be tangling with big bad Apocalypse in their next outing; and Jack was enthused with Peter Jackson's Hobbit sequel The Desolation Of Smaug (or should that be SMAAAUUUUG!!?) even if the idea of a three-film adaptation of a 200-page book didn't excite him quite as much.
December is "lists of the best stuff" time (What? So what if my list came out in January? I was busy! Stop looking at me like that!) and Anthony provided us with his picks for Top 5 Underground Albums and Top 10 Comic Series of 2013. Japanese Metalcore group Cyclamen took the top spot for albums you haven't heard of but need to hear, with the Superior Spider-Man series topping the comics list. Thanks to Anthony, I now know where all my disposable income is going in 2014.
And last, but most definitely NOT least, we got to find out who got YOUR motor running in 2013 with the annual Arcade Awards winners list finally being revealed. Among the recipients of this coveted gong were Thor: The Dark World (Best Film), Jennifer Lawrence (Best Actor), Daft Punk (Best Album for Random Access Memories and Best Song for Get Lucky) and Big Bastard (Best Irish Publication.)
Screw you Oscar! As in the Academy Awards Oscar, not some random person named Oscar…
And so there we have it. A nice cross-section of the goings-on and ongoings spat out by the mass of cybernetically connected brains in jars that is the staff of The Arcade.ie. Be sure to come back in 2014 as we get to cover the new interesting games for Gen 8 consoles, movies like Robocop, Godzilla and Nativity 3: Dude, Where's My Donkey? (no, really) as well as a whole host of geek-driven news, reviews, previews and interviews.