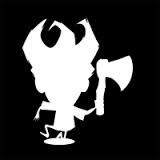 Don't Starve was without a doubt one of the biggest indie titles of last year and with a recent port to the PS4 the game has gotten a lot of attention from console gamers. The trailer doesn't exactly show a whole lot, other than the name and the design of the new monsters we will be running away from.
While no release date or details on the DLC have been given yet, it's still exciting to see that Don't Starve did well enough to gain DLC. I myself played a decent amount of the game and wish I had more time to give to the title. Either way if you haven't picked Don't Starve up yet, you should consider doing it now with the DLC on the way. The best way I could describe it would a Tim Burton inspired survival game, with a great art style, lovely soundtrack and an addictive one more turn gameplay style.
It's also free on PS4 if your a PlayStation Plus Member right now, so get on that!