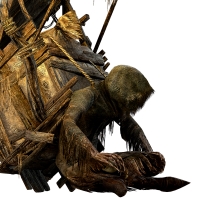 'Dark Souls II' will be launching in Europe and Australasia on March 14, 2014 on the PlayStation 3 computer entertainment system and Xbox 360 video game and entertainment system from Microsoft with the PC edition to follow shortly in 2014.
We've gained some informations about new additions to the sequel. In an e-mail from NamcoBandai, we've gleamed some interesting facts:
Lots of new characters from Drangleic appear through this new batch of Screenshots:
•             3 old ladies and the Housekeeper: Milibeth.
•             Emerald Herald, the mysterious lady.
•             One of the few Drangleic survivors who wanders endlessly with his furniture on his back: Merchant Hag Melentia.
•             A cursed lost undead blacksmith: Blacksmith Lenigrast.
•             Maughlin the Armourer, a Merchant from the West.
•             A cursed Knight from Mirrah: Lucatiel of Mirrah.
•             An apostol called blue knight: Blue Sentinel Targray.
Along with the new characters, lot of new items, features and places are shown, among them:
•             The Deep Pit, a complicated 3 dimensional map.
•             An Iron-Barred Gondola that will lead the player to new adventures.
•             Majula, a place at the extremity of Drangleic.
•             A Human Effigy, an item that could save more than one life.
To learn more about Dark Soul II or to pre-order the game, please visit http://www.darksoulsII.com. To stay up-to-date with 'Dark Sould II' including updates on the upcoming Dark Sould II Beta; please visit the DARK SOULS Facebook page at https://www.facebook.com/darksouls.