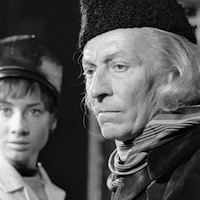 Chronicles of Time: Episode I Time will Tell
Gallifrey is trapped! Cut off from the rest of the universe. The Timelords seek the help of four humans in order to try and return them to their place amongst the stars, but everything is not what it seems. Join Wayne, Ciaran, Ryan and Darren as they discuss the many lives of the Doctor in the hopes of unraveling the mystery of the schism and find a way home.
Episode I of this brand new audioplay and podcast has just been published online and it's more than I had expected. I had expected something great, you'd be stupid not to with the minds of two Pubcasters, a 2D Caster and our Ryan (resident Arcade Who psycho wizard) behind this but it's much more than great, it's magnificent! Excellent performances, a great introduction and what promises to be a thrilling adventure/story click the link below and prepare yourself for something amazing!
Chronicles of Time: Episode I Time will Tell
Editor-in-Chief, part-time super villain and hoarder of cats. If you can't find me writing, I'm probably in the kitchen!