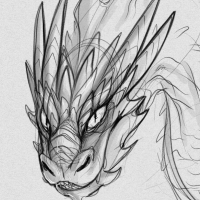 Artist Spotlight: Helixel
Another week, another Artist Spotlight! This week, we talk to Irish artist, Helixel.
Name: Isabella von Metzradt/Helixel
Location: Dublin
 1. When did you start drawing?
To be honest, I don't remember a time when I wasn't drawing. All my earliest memories as a kid always included a pencil and a sheet of paper (or sometimes any surface at all, to my Mum's dismay). I suppose I started drawing more seriously when I was in secondary school, I was taking commissions early on and I knew all I wanted to do in
the future was draw and paint.
 2. Do you work digital or traditional?
My roots definitely lie in traditional media. Markers and coloured pencils were what I used to use, until my older brother bought me a tiny little Wacom graphics tablet! From then on I got swept away with the endless possibilities that digital offers. So now I primarily work with digital. But every now and then I like to go back to my roots and break out my markers , coloured pencils and ink.
 3. What are your tools of the trade?
I have been using a Wacom Bamboo tablet, until recently when I was given a Cintiq 13 HD for my 21st birthday. I also use Photoshop CS4 and FireAlpaca currently. (FireAlpaca is a free program, mix between Photoshop and Easy Paint Tool Sai)
 4. Are there any artists that inspire or influence you?
Agh, so many! Many of them are artists around DeviantArt and Tumblr, but my main inspiration would have to be Hiromu Arakawa, who is the author of a famous shounen manga, FullMetal Alchemist. Her work never fails to inspire me and leave my jaw on the floor. She has an incredible talent, and she has been one of my earliest inspirations.
 Other inspirations would be Tara Young (Kilara), Kristen Plescow (CentraDragon), Jen Zee, Lois van Baarle (Loish), Rose Besch (Bara-Chan), Fayren, Shilin, Jennadelle, and WakkawaArt. Of course, there are many more, but these are the ones that come to mind first! They're all absolutely incredible, and if you haven't seen their work, I really think you should go take a gander at their stuff!  They're mostly all on DeviantArt.com, or their stuff can be found after a quick search on Google.
All of them do things I wish I could do myself, but the great thing about them is they inspire me to keep going and try new things, yet always leave me a drooling mess every time they reveal new works.
 Other inspirations come from video games like The Legend of Zelda, I'm a massive fan of all of the games and I draw a lot of inspiration from those incredible games.
 5. What's your favourite subject matter to draw?
Ever since I was little, all I drew was creatures with sharp teeth. Looking back on some of the stuff I drew as a little monster is hilarious. Although my tastes haven't changed much since, my preferences would be dragons, beasts of fantasy and anything and everything not from this world. Really anything with huge teeth or claws!
Recently I've been drawing a lot of ladies though. I suddenly got really into pin up art, and it's really, really great! The female form is so beautiful, and there is literally nothing more satisfying than drawing all those curves. If I can ever mix the two subject matters then I'm doubly happy!
 6. Tell us about one of your characters (if you have any)?
Oh man, I have so many characters, it's so hard to pick just one! I suppose it'd be suiting to tell you about the very first character I ever made. He's a dragon (of course!) named Idaté (ee-dah-tay) and he's been in existence for a long time. I vividly remember creating him, at the time I was incredibly influenced by my friends, so of course over time he's changed and become more unique.
He's been my muse ever since I created him. I find myself doodling him when I'm bored, down or even just happy. At first he didn't really belong to anything, he was just sort of.. there. Until I began giving him a backstory and a place to belong to during secondary school.
He's very much attached to two other similar characters that came along soon after him, his older brother and younger sister. Each of these characters are a section of my personality. But Idaté specifically is very much attached to my sense of happiness and fun. His personality is essentially optimistic, happy, and fun loving, but he can be a bit self-conscious at times. The other two siblings have their own section of my personality as well, But if I went on about it now I'd never shut up!
Idaté is my baby, I owe a lot to him, he's so much more than just a character of mine now. He's more a part of me than he was at the beginning. I even based my first tattoo off of him and his story.
 Sometime in the distant future I hope to publish it as a webcomic, but it's been on hiatus for a rather long time. And my inspiration for it wavers a lot. It may never happen but I really don't want to let it wither away. If it doesn't get brought to life through comic panels I'll most likely just keep filling my sketchbooks with it and post snippets here and there from it.
 7. What's your ultimate goal when it comes to art?
Honestly it's always just to do my best and keep improving. I'm constantly trying to up my game and do something better and better every time I upload something for the world to see.
I would love to work for a company of some sort, either a games company, or even something like an apparel website. I really like designing shirts and posters. Things people can own or experience. Book covers are something I've always loved the idea of doing, so I'd like my work to cover a variety of things!
 8. What advice would you give to aspiring artists?
I know many people all say the same thing, but honestly the best advice I can give is never give up. And try your hardest not to compare yourself to other people. There will always be someone "better" than you at something. Maybe people who learn faster than you. But don't let that get you down. Just keep doing what you love, do It because you love doing it! Learn everything you can, do studies from life and don't constantly worry whether or not it's perfect. Perfect doesn't exist. Being an artist is difficult, not everyone will like your work. But one of the most important things is learn how to take criticism… good and bad. Constructive crit can be the best reaction you get from someone. We should all learn from each other, and help one another to get better.
You can follow Helixel on:
Tumblr: http://artofhelixel.tumblr.com/
deviantART: http://helixel.deviantart.com/
or even visit her Society6 store where you can buy t-shirts and prints: http://society6.com/Helixel
Favourite Pieces by Helixel: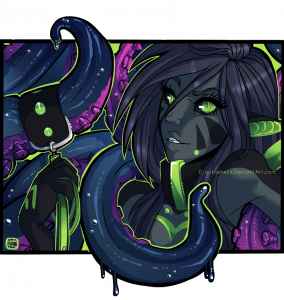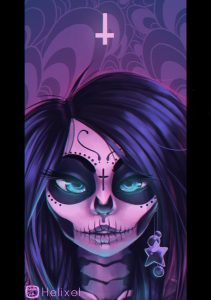 Stay tuned for next week's artist spotlight on Chikuto!