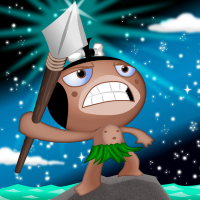 A lot of people would be of the belief that mobile gaming isn't relevant to many discussions on gaming but that couldn't be more further from the truth.
Video games are about bringing your ideas to the people. Whether it be on big screens or small ones, you have millions of people enjoying and sharing in deep experiences they love or at the very least love to hate. Video games are an important part of many peoples lives and have helped people, including myself in many different ways. They offer insights on ideas and ways of life that you would never have thought of. They can help people become more understanding and accepting to the surroundings around them.
Mobile games are just another way for all types of gamers to have a bit more enjoyment in their day even if they are played on the smallest (more mobile) screens going!
I've clocked up some serious hours on my iPhone, Android and iPad over the last few years and have been through the good times and the frustrating times all of which culminate in my experience and ability to bring you my recommendations each week and to save you from potentially destroying your mobile device from anger and despair… like I've done anyway on with the reviews!
Title: Pocket God
Developer: Bolt Creative Inc
Platform: iPhone, iPad and Android
Price: Around 99c. Varies on different OS
 You are a God!  OK not in real live but still. You are a God of pygmies in this game filled with various hilarious situations and mini games. I very much enjoy the various ways that you can sacrifice your little guys to the gods. My particular favourite is the pain drain where you inevitably impale them through several spikes. The game really doesn't allow you to be a lovely God , which does abet you need to reap vengeance on those who have done you wrong throughout the day through naming your little guys and sending them to unspeakable death.
The game itself is rather cartoony in nature. While this may sound quite graphic and gory, they are presented in quite a happy family friendly way. The game does lack specific goals, rather it just a sandbox of cruelty. There's definitely a good deal of amusement to be had in discovering all of the different ways to bring their lives to a close,.
[easyreview cat1title="The Arcade Verdict" cat1detail="" cat1rating="8.5″]
Title: Say What You See ( Doctor Who)
Developer: BBC World Ltd.
Platform: iPhone, iPad, and Android
Price: Around 99c. Varies on different OS
I don't know any Doctor Who fan who wouldn't love this. The aim of the game is to say what you see in various locations. The puzzles cover over 50 years of the show and each correct answer will earn you a fact-file and trivia about characters and monsters.
The art behind this game is amazing and is by far my favourite part of the game. There are some really obvious puzzles but then there are some genius ones that really make you think. Highly recommend to Whovians and puzzle lovers! The only criticism that I would give it is it can be a bit buggy and hard to see things. Otherwise a stunning app
[easyreview cat1title="The Arcade Verdict" cat1detail="" cat1rating="7″]
Title: FIST OF AWESOME
Developer: I FIGHT BEARS
Platform: iPhone, iPad, and Android
Price: Around €1.79. Varies on different OS
Have you ever wanted to punch a bear in the mouth? are the first lines I see in the description for this mobile game so naturally I had to check it out and as a child of the late 80's I was happy out with this game. The game is basically an homage to classic beat 'em ups. Its story is a little silly and revolves around a time travelling lumberjack whose fist is self aware. The fist and he embark on a journey through enslaved humans and homicidal forest animals.
The controls are gesture based, responding to swipes and taps perfectly. It has various and charmingly designed enemies that have different attacks and weaknesses and the art work is wonderfully retro to look at.
[easyreview cat1title="The Arcade Verdict" cat1detail="" cat1rating="7.5″]