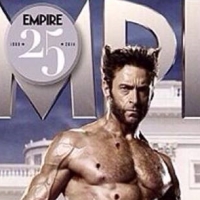 All 25 of Empire's X-Men Covers Revealed.
Yesterday  on Twitter director Bryan Singer announced that he and the X-Men: Days of Future Past actors would reveal 25 exclusive Empire Magazine covers under the hashtag #Empire25.
Each cover syncs up to create one giant gatefold image of X-Men past and present revealing a first look at some characters.
Now that all 25 are out we've collected them here for your viewing pleasure.
Sound off in the comments below and let us know your thoughts.
Naturally my favourite is Wolverine, duh.  
The covers include Sentinel Mark 1, Lucas Till as Havoc, Evan Jonigkeit as Toad,  Josh Helman as William Stryker, Peter Dinklage as Boliver Trask, Jennifer Lawrence as Mystique, (hells yeah!), Nicholas Hoult as Beast, Evan Peters as Quicksilver, Michael Fassbender as Magneto, James McAvoy as Professor X, Hugh Jackman as Wolverine, director, Bryan Singer, Hugh Jackman as Wolverine (… again!),  Patrick Stewart as Professor X,  Ian McKellen as Magneto, Halle Berry as Storm, Anna Paquin as Rogue, Booboo Stewart as Warpath, Ellen Page as Kitty Pryde, Adam Canto as Sunspot, Bingbing Fan as Blink, Shawn Ashmore as Iceman, Omar Sy as Bishop, Daniel Cudmore as Colossus and the future (possible Nimrod?) Sentinel.