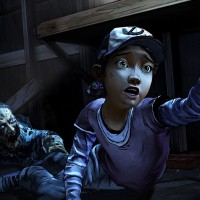 We've known for a while now that Clementine is returning and finally we've gotten confirmation of the date. Steam have dated The Walking Dead Season 2 will launch with the first episode, 'All That Remains' on December 17th.
For anyone who might have missed or even dare I say it… skipped out on The Walking Dead Season 1, the five episodes will be available at a special discounted price, 66% off to be exact. The first episode of Season 2 will retail at €22.99 for a season pass but can be preordered now on Steam for a 10% discount.
One day after it's Steam release Xbox LIVE Arcade users will be able to pick it up for $4.99 or the Season Pass for $14.99 (euro prices unavailable)
No word yet on when PlayStation owners will be able to get their hands on Season 2.
SPOILERS – IF YOU HAVEN'T PLAYED SEASON 1 THEN I SUGGEST YOU DO NOT SCROLL ANY FURTHER!
Editor-in-Chief, part-time super villain and hoarder of cats. If you can't find me writing, I'm probably in the kitchen!