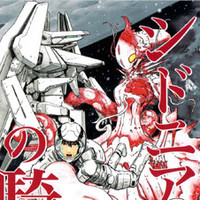 NETFLIX EXCLUSIVE ANIME SERIES: 'KNIGHTS OF SIDONIA'
If you're a Netflix user like myself you might have noticed more and more Anime creeping into their roster of already impressive titles but to continue on their quest to grow and develop their own programming, we've already seen Hemlock Grove, House of Cards and Orange is the New Black win over not only new audiences but act as proof that Netflix have some sharp minds creating for them.
Well they've turned their attention to the Anime genre now and are developing a new Anime series based off the massively successful manga, 'Knights of Sidonia'. The manga, created by Tsutomu Nihei (Manga artist behind Wolverine: Snikt), is the story of humanity brought to the brink of extinction by an alien force known as 'Gauna' and utilising mech weapons to fight back, the protagonist is a young boy chosen to pilot a new Guardian Robot.
The might sound a little familiar to Evangelion fans but critics and fans alike have been quick to refute the similarities and focus on what makes them different!
Speaking about the show CEO of Polygon Shuzo John Shiota said that they  "…are ecstatic at the opportunity to run 'Knights of Sidonia' firstly and exclusively on Netflix.  This is an epochal deal, as we are able to deliver our beloved anime property to a wider audience in a more direct and timely fashion than ever before".
The fully computered animated Anime will air across all Netflix (in Japanese with subtitles option or a dubbed option) in Summer 2014.
Editor-in-Chief, part-time super villain and hoarder of cats. If you can't find me writing, I'm probably in the kitchen!