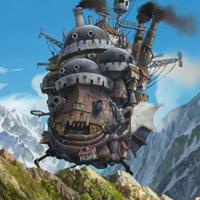 Ghiblicember #3 – Howl's Moving Castle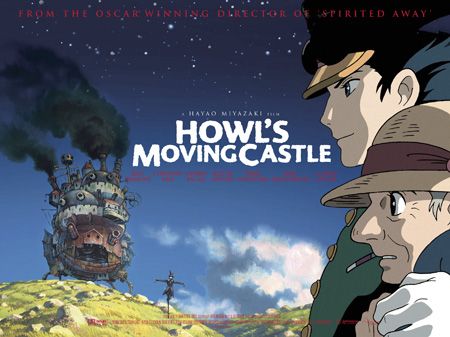 With less than a week left before we are all feasting on far too much chocolate and watching too many Christmas films that we are stuffed beyond belief Ghiblicember enters its third week and we have one of the best known and most loved Ghibli films. No one could deny this film it's spot in this list and could even be argued that it should be higher but for now "Howl's Moving Castle" takes its place at #3.
[pulledquote]I have to go with Howl's Moving Castle. I love the characters and the story and it's music is absolutely incredible   – Chelsea Kiernan[/pulledquote]
Howl's Moving Castle is based on the 1986 novel of the same name by the English writer Diana Wynne Jones. This film also brought the outstanding director Miyazaki out of retirement when the original director Mamoru Hosoda left the project thus giving Miyazaki another chance to show and demonstrate his brilliance.
It was also the next Studio Ghibli film to be nominated for the Academy Award for Best Animated Feature in the 78th Academy Awards in 2006.
Title:                          Howls Moving Castle
Release date:          September 5th 2004
Studio:                      Studio Ghibli
Director:                  Hayao Miyazaki
Writer:                     Hayao Miyazaki
The plot of Howl's Moving Castle is centred around our protagonist Sophie, an eighteen year old hat-maker. While she is out visiting her sister she encounters a mysterious man named Howl who turns out to be a wizard, a very powerful one at that. Unbeknownst to Sophie 'The Witch of the Waste' is romantically chasing Howl and when Sophie insults and refuses to serve her, the witch curses Sophie by transforming her into a ninety year old woman. Sophie must leave all she knows and loves in order to find a cure to her curse; travelling to an area known as the "Wastes"  and encounters mysterious characters, entangling herself in their loves and problems.
Howl's Moving Castle is a story of self-discovery, magic, mystery but more importantly love and the power it has over us.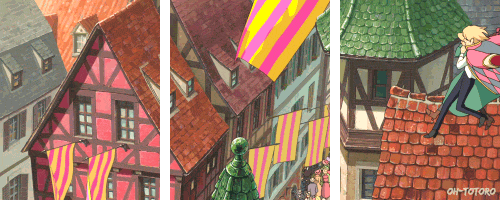 As I said above, it's no surprise to find Howl's on this list, as a Miyazaki film it feels like a masterpiece but even if the acclaimed director wasn't attached, the story itself brings this film to life and makes it a perfect choice for a Christmas film. 
[pulledquote]Howl's Moving Castle is my absolute favoruite… the stunning animation, the breath-taking color used, it's all amazing – Mary Healy[/pulledquote]Sophie has to deal with her curse, being transformed into this ninety year old woman and while all these powerful spells and hexes rage on the truly magical thing about it all is Sophie and her attitude; after she has time to process what has happened to her and the way she adapts to the situation through her own concern, fear and self-development.
For Sophie the curse might have been the worst and yet the best thing to happen to her as it gives her the get up and go to leave her run of the mill life and seek adventure even if she isn't aware she is seeking it.
The film was for the most part produced digitally, the original backgrounds and surroundings were all drawn by hand giving the look of the film a more intense and personal feel. The spectrum of colour is a true feast for the eyes and at times you're can find yourself more engrossed in the spectacular backdrops and animation than the action. From the vibrancy and explosions of colour in cityscapes and townships to the desolate and dreary tones of the Waste the film is packed full of amazing and powerful imagery. What goes hand in hand with the stunning animation is the genius character design that was given to each and every character in this film from Sophie's plain-jane image and her ninety year old frame to Howl's overly flamboyant style; each personality is illustrated perfectly in their character design.
As far as this list goes, Howl's Moving Castle is one of the most heart-warming and "christmassy" of the bunch (bar our number one which is too sweet for words). When you watch a Christmas film you want to feel joy and happy, there needs to be conflict but with a positive outcome, this film excels at all of that. When the characters succeed you succeed with them and when they are happy, you are just as happy with them and for them. Lastly this film is all things 'christmassy' in the sense of magic and wonder; the whole film is set around wizards, witches and curses. If we could just throw in a big fat man in a red suit (Calcifer?) we would have ourselves the perfect Studio Ghibli Christmas film.