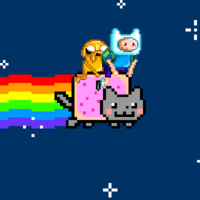 Cuteness Overload – Adventure Time Fan Art
Skadooosh! I've been travelling a lot recently so to pass the time on the bus/train I've been revisiting the land of Ooo rewatching old favourites and ashamedly discovering I'd even missed out on one or two episodes! Any way since then I've had Finn and Jake on the brain and my internet history / tumblr / twitter feeds have been consumed by the heroes, their friends and their enemies but more importantly it's been filled with some amazing fan creations so in the spirit of bro-dom I'm sharing it with you guys!
Enjoy!
No slides are available in this gallery
Editor-in-Chief, part-time super villain and hoarder of cats. If you can't find me writing, I'm probably in the kitchen!