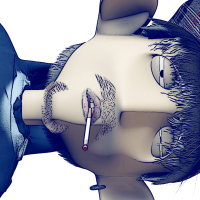 After a routine experiment in Ireland, Dr. Lederhosen has made a massive discovery. When "Subject A", Scumbag O Brien, is added to a group of people, an unusual phenomenon occurs. As he explains the phenomenon to his colleague Frau Stroudel, Dr Lederhosen seems to believe he has discovered the essence of being a scumbag, calling it the Scumbagnetic Effect. But has he?
 The film which is part social commentary, part satire, is written by Pat O'Brien and directed by Gerald O'Brien, the man who 'pioneered Ireland's first Optical Motion Captured 3D animation in 2012, in Dáithí agus Goliath'. Speaking about the origins of 'The Scumbagnetic Effect', Gerald said that they '…came to realize a very important question early on, namely, what does the derogatory term scumbag truly mean? It was around this time that the Anglo Irish Bank tapes came out and I remember Pat saying to me about the whole affair, "what a bunch of scumbags". "Scumbag bankers, more like", I responded, to which he did quip "The Scumbankers!". It was from that moment "The Scumbagnetic Effect" was born.'
The Scumbagnetic Effect is showing November 13th as part of the Cork Film Festival.
Editor-in-Chief, part-time super villain and hoarder of cats. If you can't find me writing, I'm probably in the kitchen!