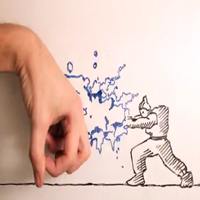 Video: Hand to Hand Combat
In a match that would even have the 'Master Hand' quaking in his glove, this video features a hand fighting what would be safe to assume it's own creation – a rather familiar looking fighter from a certain street fighting series! (Although this guy possesses some abilities well beyond this evil demon guy). The video titled 'Maker versus Marker' is by Jonny Lawrence, a UK based designer, "…working freelance covering 2D Animation, Concept Art and Storyboard Art."
The video which first made it's way online back in May of this year has alread clocked in over 3 million views – now if that doesn't get you attention then I don't know what will!
You can find more clips and videos from Jonny, here on is his YouTube Channel!
Editor-in-Chief, part-time super villain and hoarder of cats. If you can't find me writing, I'm probably in the kitchen!