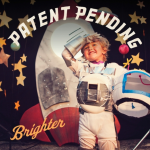 This week, all I've been listening to is the new album 'Brighter', by pop-punk band, 'Patent Pending'. The band hit it big last year after touring with pop-punk sensations, Bowling for Soup. Their music can only be described as overly fun, upbeat, happy and generally uplifting. So many of their songs are full of cool little pop-culture references, including a whole song about Super Mario! I cannot recommend these guys enough.
They're interesting as some of their songs are so silly and fun, but some deal with some issues as suicide. The title song, 'Brighter', talks about this. It's the third part in a song trilogy, the first being 'One Less Heart to Break', the second being 'Second Family'. The three songs tell a powerful story about how you can feel so alone in the world, but coming out on top.
No matter what your tastes, these guys are worth a listen. I'm elated to say I'll be attending their show in Glasgow next week, so expect a full review form me!