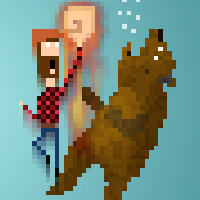 The days of side scrolling 90's throwbacks, martial arts and gangs of flamboyant biker chicks and muscle bound punks are well and truly in the past but all you have to do is mention titles like Streets of Rage or Double Dragon and any gamer worth their salt will be able to tell you about and that one time they were so close to clearing a level only for a stray throwing blade to knife them in the back… alas… those were the days and they are over…or are they?
Say hello to 'Fist of Awesome' from 'I Fight Bears', Nicoll Hunt:
"FIST OF AWESOME is a time-travelling-lumberjack-em-up of epic proportions. It stars Tim Burr as a man out of time, caught up in a needlessly convoluted plot to enslave humanity by populating history with homicidal wild animals."
Ridiculous plot [x]
Hordes of insane villains [x]
Macho Hero [x]
Yeah you can colour me excited for Fist of Awesome! The game will be first released on iOS and Android later this month but PC and Mac users will have to wait until a little later this year before the game gets it's release as the 'Grizzly Edition'! While the game will first play as single player on iOS and Android Hunt has explained that the Grizzly Edition will feature a local multiplayer for up to four players which means there will three additional characters as well extra stages coming to the line up, the release will coincide with a free update for iOS and Android which will contain all of these.
The game promises 'humour', 'amazing graphics' and a 'bombastic soundtrack' which if combined well (and in fairness it's obvious that Hunt has pulled this off just by looking at the trailer) will make for a nostalgic time machine in game form and serve as a reminder of the talent working in the Indie!
Expect a full review of 'First of Awesome' as soon as I can get my manly lumber jack (this doesn't sound right as I'm typing it…!) bear throttling hands on it!

For more information on 'I Fight Bears ' just click the link! For more information on 'Fist of Awesome' and/or to preorder just click here!
Editor-in-Chief, part-time super villain and hoarder of cats. If you can't find me writing, I'm probably in the kitchen!