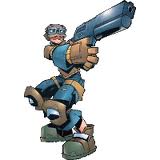 In an interview with Gaming Blend, Michael Hubicka Project Leader on fanmade project TimeSplitters Rewind has explained why not every console owner could have access to the game!
"I think it's going to be an off-the-table thing for now… But I don't want to throw it out there just yet. But it's all based on hardware limitations – because with such a small team we need as much support as we can get. We can make it scalable on the PC, but in terms of console development… we don't want to say like 'Wii U' and then not be able to present like, anything – or if it looks, like (for the lack of a better word) crap. We want to wait; we don't want to half-ass anything"
TimeSplitters Rewind is a Crytek blessed fan project that came about after a petition to have the company launch the game themselves fell through. Rewind will feature all 300+ characters, favourite stages, weapons and will be available for PS3 and PS4 and it currently features 8/16 multiplayer capability. Speaking further about the decision Hubicka explained:
"What's holding me back on the Wii U, is as I read on the Wii U – it's not really an HD contender in terms of Xbox One versus PlayStation 4… When it comes to the Wii U, it's going to take a lot for us to scale things back so we can work on that. But… it doesn't mean that what we have right now wouldn't allow for us to scale things back, because if we're going to be able to make it scalable on the PC – so players with lower-end systems can play – then hopefully we can do the same thing for the WiiU"
A playable demo for TimeSplitters Rewind is expected December 2013.
Editor-in-Chief, part-time super villain and hoarder of cats. If you can't find me writing, I'm probably in the kitchen!