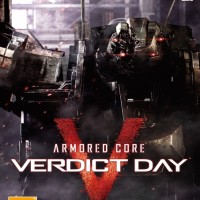 I've never been a Mech kinda guy, they've never really interested me (Always preferred fantasy over science fiction…magic trumps robots!) but now and again a game will come along that makes me sit up and notice, Zone of the Enders, Hawken and you can't talk about giant robot suit games without mentioning the Armored Core series!
Today sees the release of the fifth game in the series, Armored Core: Verdict Day and to celebrate the release, Namco Bandai have announced a special limited edition version, exclusively available to gamers who pick up their copy through Amazon, the C03 Pack!
"The C03 Pack will feature the full-game, the original soundtrack of the game, an Artwork compilation of more than 270 pages coming directly out of the developers' brilliant minds and last but not least: a totally articulated mecha-action figurine inspired from Armored Core: Verdict Day!"
Editor-in-Chief, part-time super villain and hoarder of cats. If you can't find me writing, I'm probably in the kitchen!