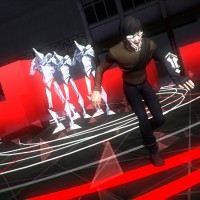 If you pay attention to the Indie-Gaming scene, then the name Mike Bithell, creator of "Thomas Was Alone" will send shivers down your spine.
Announcing his new game "Volume", he says:
"It's about a clever man, in a little room, a stealth game with absolutely no killing where evading detection by controlling sound is the only way to stay safe from robot-like adversaries. It also has a fully-featured level editor that will let you create and share levels with anyone."
Still waiting to play the BEAUTIFUL puzzle-platform friendship jumping box game (no, seriously, that's it), you can get it on PS3, Vita and PC. Believe me, play it and you'll know exactly why you should be excited for Volume! Volume will however be an exclusive debut release on the PS4 and PS Vita!