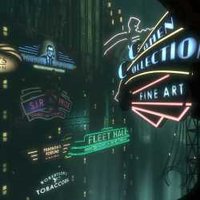 "Elizabeth…you can call me Elizabeth"
Venture once more under the sea to Andrew Ryan's Utopian Society, Rapture. We've got the trailer for the highly anticipate DLC, the first of the two part series titled 'Buried at Sea' so what are you waiting for? Click below!
Speaking about the DLC and the birth of the idea, Ken Levine of Irrational Games said "I have this image in my head of Elizabeth dressed like a femme fatale coming into Booker's office in Rapture. Well, how do we get there? A lot of people have asked us to tell a story about pre-fall Rapture. To me, it wasn't really interesting, because it's the midichlorian problem. We already told the story in the logs, so it would just be demonstrating that, and that's not surprising or interesting."
Interested? Well more and more information is surfacing about the game including a crucial element about the gameplay which will turn away from the previous Bioshock style and force players to use their intelligence and wits to make their way around Rapture without engaging in combat and if all that wasn't enough Levine has also stated that the second episode of the DLC will see players controlling Elizabeth.
Buried at Sea isn't due for release until later this year but fans of Infinite and the Bioshock series can grab the newest DLC 'Clash in the Clouds' has been released today!
Editor-in-Chief, part-time super villain and hoarder of cats. If you can't find me writing, I'm probably in the kitchen!