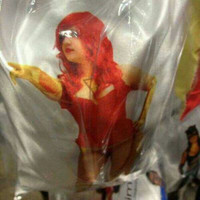 As of late the Cosplay community, and I'm talking on an international scale have been debating and discussing, trying to draw a universal code of conduct between them, fans, photographers and convention attendees! Out of all of this came the 'Cosplay is not Consent' campaign with the mission statement, "To empower fan convention costume enthusiasts (aka "cosplayers") to SPEAK OUT against inappropriate social behavior of a sexual and/or stereotypical nature for themselves and fellow fans… cosplay is NOT consent!".
It all seemed to be going rather well, the campaign gained ground, cosplayers and fans all around the world got behind it, it was tweeted, tumblred, facebooked and the work went round that a change was needed in the attitudes towards cosplayers!
Then, this happened…
Cosplayers, Dustin Durrough and Marie Grey were alerted to their image being used on hug pillows being sold at AnimeNEXT! All would have been okay had the pair and a few others been aware their image was going to be used for such purposes. Eric Pearce, the vendor of 2ImageSolutions who took the photographs and owner of the merchandise claims it's all in his contract that patrons sign before using his photobooth:
"Legally, I do have the right to reproduction right. The first paragraph (of the consent form) states "For Consideration herein acknowledged as received, and by signing this release I hereby give the Photographer / Filmmaker and Assigns my permission to license the Content and to use the Content in any Media for any purpose (except pornographic or defamatory) which may include, among others, advertising, promotion, marketing and packaging for any product or service."
With a consent form signed, the cosplayers who found themselves printed on the pillows spoke out about how they'd no idea they'd feature on a hug pillow ones that featured both front and back shots of them!
Since the story broke, Pearce has promised not to print anymore of the hug pillows, offered to give them to the people whose image he used and vowed a change in the way he runs his operation from now.
Editor-in-Chief, part-time super villain and hoarder of cats. If you can't find me writing, I'm probably in the kitchen!