Review: Blackstar Book One
Title: Blackstar
Written by: Mike Lynch
Art by: Dwayne Moloney, Trystan Mitchell
Publisher: Abandoned Comics
http://www.abandonedcomics.com
'So that's what Akira would be like if it was set in Ireland!' is not a sentence I thought I would be saying when I began reading 'Blackstar', the new indie comic from Mike Lynch. Really, I wasn't sure what to expect, but whatever expectations I had were blown out of the water by the opening scene, a satirical extra-terrestrial encounter at a gas station that reads like something you'd find in a Men in Black film.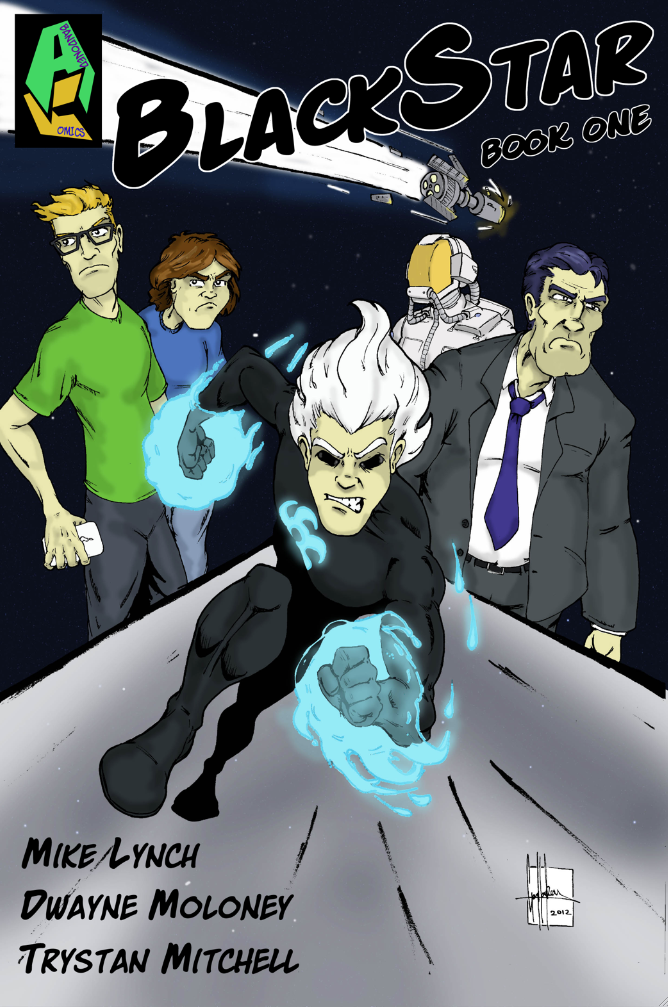 From this opening scene onwards, this first issue follows a fairly rudimentary path, but has enough witty charm about it to keep you reading. The lead characters, Brian and Chris, are your standard teenage kids, but have a nice chemistry together, and have enough child-like innocence about them to make it believable how relaxed they are once sh*t hits the fan, which it does, in every sense of the word.
If you haven't seen Akira, the basic premise is kid gets superpowers, government is responsible and try to imprison kid, ridiculousness ensues. In this case, it's a comet from outer space and…. just read it if you want to know the plot! But in any case, the kid gets super powers, the government quickly get involved, and it goes from there. For a first issue, there's a lot of story strands thrown at you at once. It seems every second page has a nugget of information you want elaborated on, or a character you want to have more dialogue, which is perfectly offset by the quirky Irish humour through-out. I will say that there is almost a story overload by the end; I had to read the comic a couple of times to make sure I had every strand, but re-reads aren't a bad thing, and it really only makes me want the second issue even more.
The art bears the most charm for this book though, Tristan Mitchell and Dwayne Moloney have a done a bang up job bringing the story to life. The opening aforementioned extra-terrestrial encounter and a page towards the end (you'll know the one when you see it, breath-taking) all look great, and there's a nice, slightly messier style change for when we encounter our pair of protagonists, which shows a nice contrast in tone for the comic.
The Irish indie comic scene is hopping at the moment, and with releases like this, it's not hard to fathom why. This comic is well worth your time and money. Check it out today!
A fantastic read for all ages, offering enough to keep kids entertained while working on a complex and engaging enough story to appeal to bigger kids!