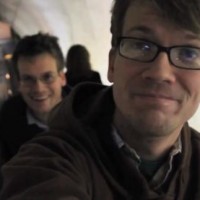 The Fault In Our Stars Live: John and Hank visit Dublin
It's hard to believe it's been just over a year since I started watching the Vlogbrothers on youtube, and even harder to believe it's some 6 years since they began their online escapades with Brotherhood 2.0, but here I am, and more importantly, here they are, in Dublin. Frickin' Ireland. Live.
The venue had a great buzz about it. As soon as we entered the building there were people everywhere, claiming their free signed copies of 'The Fault in Our Stars', or buying some of John's other books from the merch stand before hurriedly trying to find good seats in the swiftly filling up hall. There were chants, socializing and cameras aplenty as nerdfighters from around the country came together to finally see the brothers Green in the flesh, and giggle at their nerdy awkwardness.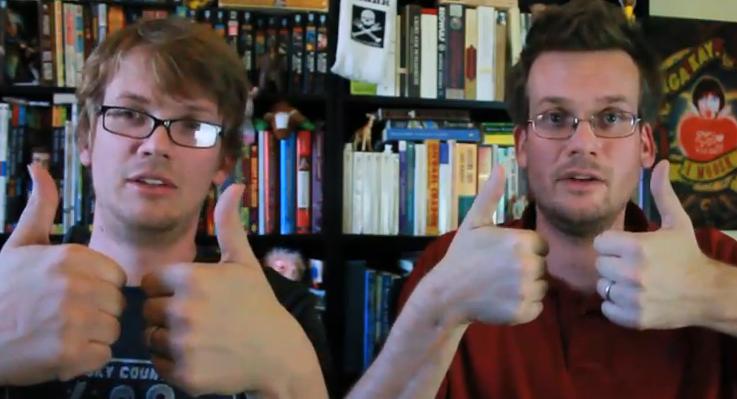 John got the ball rolling on the ball at seven, to what was a sold out crowd. He spoke about The Fault In Our Stars, the writing process, meeting the much beloved Esther and about his personal history that led to him writing the book. Though much of the crowd knew this information from watching John's videos, there was still something so awe-inspiring about hearing it from him live, in person. This was swiftly followed by the first of two sets of songs from Hank, whose performance was as hilarious as it was nerdy. What do Harry Potter, quarks and a horse's head have in common? Hank Green's performance that night. Thankfully, a member of the audience managed to spare us from the My Little Pony related material, and once Hank was done, the brothers got together on stage to answer some questions from the audience.
Seeing John and Hank on stage together was incredibly surreal. They were exactly like they are on youtube, and I guess that's what makes youtube personalities so different. They are just putting themselves out there without a veil or an alias, and when you see them live at these sort of events, it makes you realize that it is just them, with a camera, in their room, on youtube. The idea that a thousand of us in that room not only enjoy what they do, but are inspired, and in many cases, have had our lives changed by them, just being themselves, in front of a camera, on youtube, is pretty ridiculous, but also pretty awesome, but more on that a little later.
After the question time, Hank gave us some more of his sweet, sweet acoustic cuts. This time, featuring covers of Green Day and Slipknot. Fun fact, Psychosocial and Juese of Suburbia follow the same chord progression. Hank never stops teaching. Seriously. Once he was done, John came back out, they gave their enormous thanks for the crowd, and they did their now traditional event-ending cover of 'I would walk 500 miles' by The Proclaimers. This gave way to the signing, and that was it, we were done and on our way home.

(Video from TheTalkingThreads)
This evening celebrated quite a few things. John and Hank's continued Youtube success, which is remarkable, and is continuing to grow and educate people at a very promising pace. John's success as a novelist, which is amazing to see that books like The Fault In Our Stars, whose title seems to argue with Shakespeare himself, can find a varied and knowledge-hungry audience despite the runaway success of teenage vampire love stories and printed word porn. Ultimately though, I think the evening proved to celebrate the printed word, and argue that people, particularly young people, still care for it. John himself pointed out how we are in the digital age, what with most of the crowd documenting the show as it happened for tumblr, twitter and whatever else, but despite this, books are still selling well, and the fact these shows sold out show that people still care to read them, and use them to ask and wonder about life's big questions.
 It's very easy to think the physical product will one day be a thing of the past, and that younger generations are going to doom us all, but from what I seen that evening, there are still 1000 strong who would like to say otherwise, and with genuine, real people like John and Hank Green inspiring us to learn and read and explore new avenues and without fear, I think we'll be okay.