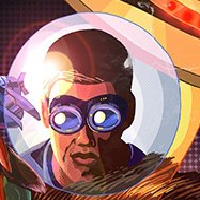 Review: Tales from the Void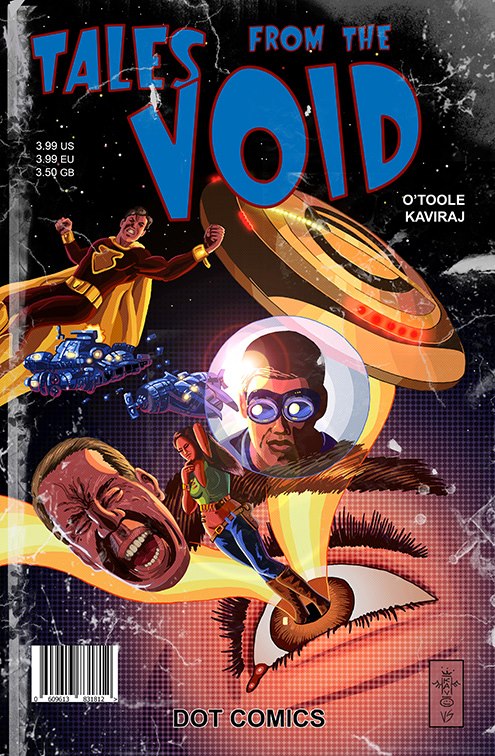 Title: Tales from the Void
Writer: Darrin O'Toole
Artist: A. Kaviraj
Letters: MAgnus
Publisher: DOT Comics
Price: €3.99
From DOT Comics and launched at the DICE Expo in Dublin this year, 'Tales from the Void' is a twenty two page collection, an anthology of stories from the bizarre, the surreal and the mysterious. The collection includes five stories that are so different from each other, you'd be forgiven for thinking O'Toole wasn't the only writer working on them but it's all his work.
Tales from the Void features 'Carpe Diem', 'Sunshine', 'Ghost Writer', 'Maternal Instincts' and 'Where Walks the Mad Man'.
Now anyone who was ever a fan of televisions shows like 'The Twilight Zone' or 'Tales from the Crypt' has to have a copy of 'Tales from the Void'. The stories read like you're watching an episode of these cult 50's and 80's shows. Each story told is spread out across four or five pages and as said earlier they are some completely different that it would be hard to believe O'Toole was the mastermind behind each of them. Now that's not to say there aren't common settings, themes or elements running through the book and fans of true science-fiction will be sure to get a kick out of the comic.
With the exception of 'Ghost Writer' all the stories are based on space travel, aliens and the unknown mysteries that await us in the Universe although if O'Toole is right about any of it let's just say I am happy to stay here on Earth.
For me, two stories really stood out but we'll get into Ghost Writer first as it's the only that feels like it didn't belong in the anthology.
There is nothing wrong with the story, in fact it could have easily been the script and story board for an episode of the Twilight Zone but as it is, it sits almost uncomfortably in the middle of the collection.
A man finds his own work, his life, his experiences, his world is the subject of a book, books written before his own are published. When you contrast to the others though 'Ghost Writer' just doesn't seem to gel, now in a way that works, it can be seen as a breather from space and aliens but when you read the whole comic book in one sitting it's presence is a little jarring.
Now to turn your attention to my two favourites 'Sunshine' and 'Maternal Instincts'. Sunshine actually made me gasp… "That was the day it happened. That was the day the Sun unleashed its might upon mankind.". The year is 2088 and the human race has begun mining the sun until to realise that for all our efforts, our advancements in science and technology we're fragile tiny creatures at the mercy of giants… and suns! Maternal Instincts is the story of a baby ejected in an escape pod and found by an alien creature… if this is ringing bells we were also reminded of poor baby Kal-El. However the similarities quickly end there and let's just say this baby is no Superman.
To me it was very much a tongue in cheek retelling with a possibly more plausible ending … (if the planet Krypton didn't explode!). O'Toole uses this collection to show the depths of his talent as a writer, it allows him to prove his skills as he tackles different stories, each with their own characters and plots woven together but not so tightly as to confuse the reader.

Each story features the fantastic art work of up and coming artist Anand Kaviraj. Perhaps one of the best features of the art has to be the expressions captured on the faces of the people in every story. Regardless of what the story is about Kaviraj is able to turn his hand to it whether it be a frustrated pot cleaner in the greasy kitchen of a diner or a mother abandoning her child to the darkness of space. To pick my favourite page, isn't easy but if my hand was forced then I'd have to go with the cover! It's a throwback to a bygone era of pop culture sharp and bold text, it's colourful and strange, a perfect eye catcher and indicator to all those who dare pick it up that this comic is out of this world.
Tales from the Void is available from all good comic book stores right now but that's not the last from Darrin, the comic promotes two very interesting titles 'Earthruler' and 'Streamliners' we can't wait for those if the artwork is anything to go by! 
Editor-in-Chief, part-time super villain and hoarder of cats. If you can't find me writing, I'm probably in the kitchen!