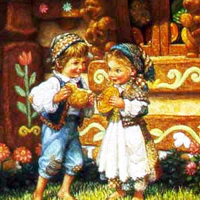 So you remember that duo of scared children tossed into their woods by their sh*te parents and left to defend themselves against a cannibal/witch? Well they are back and they are an axe to grind s here is the trailer for "Hansel and Gretel: Witch Hunters".
The premise alone is pretty awesome, fifteen years after the incident Hansel and Gretel are all grown up. They got a taste for killing  witches and now its what they do for a living… they are the Witch Hunters, also Hawkeye is Hansel. The film is being pitched as a comedy horror and the cast includes Jeremy Renner and Gemma Arterton as Hansel and Gretel and Famke Janssen as Muriel, the leader of a coven of witches.
Granted the trailer doesn't look like it has much substance and it will probably end up like Snow White and the Hunstman, but we can live in hope.