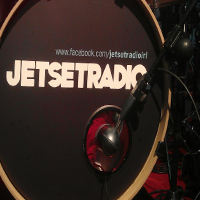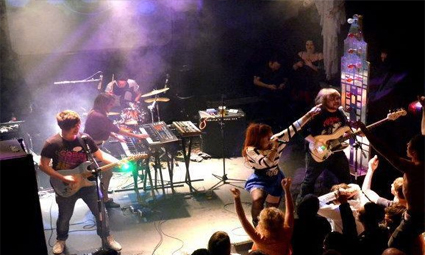 "They play the music they want, based on the music they like. Electric, eclectic and totally bad ass, Jet Set Radio are here to make all your dreams come true." 
Jet Set Radio Facebook
Jet Set Radio ReverbNation
Jet Set Radio Twitter 
The tagline above can be found on the band page for Irish band, Jet Set Radio, now if you're thinking to yourself that the name sounds a tad familiar then you might have seen them here on the Arcade a few times now! No strangers to this little magazine, the band competed in our competition to find a headline act for ArcadeCon 2012 and not only did they make into the final round, they took the lead and kept it and won and put on one of the best shows ever.
So is the tagline apt?
You bet your music loving ass it is!
Jet Set Radio are a five piece band, featuring the talent of Kirsty, Andy, Rírá, Conor and Cormac, together they create a sound that dances and mashes between the genres of pop, electro and rock. Now JSR are hardly the first band or act to fall between these categories and pull them together but there is something different about these guys, making it genuinely difficult to compare them to any other group. There sound is unique, it is brilliantly paced, infectious, upbeat, addictive, sugary, dark, fun and grown up!
Jet Set Radio aren't good, or great… they are amazing! It's not possible for me to single out one aspect of their music as their best feature and you'll see for youself! I encourage you to sit down and listen to any of their tracks, in fact here are some from their recent live performance at the Trinity Ball:
On vocals stands Kirsty, with a voice that sings as if it was made of liquid smoke, sweet, intoxicating, filling up your senses, drowning out everything else around you, it is made of passion, energy and love, this is what this girl should be doing every minute of every hour of every day for the rest of her life, on occasion she is accompanied by Andy and Cormac who when not bringing the rhythm through guitar and bass, are offering amazing support with their own voices, reenforcing Kirsty's hold on their audience and listeners. Ensnared by the trio you"ll stay hooked because of the drums and keys, with Conor and Rírá bringing an intense overwhelming beat and electricity that sets you on edge, energises and courses through you, pulsating and dancing.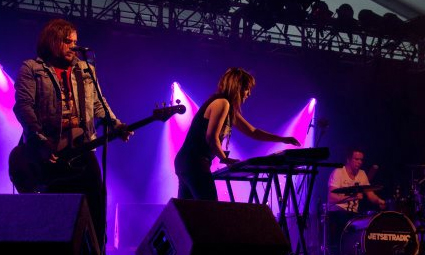 Their sound is easily dissected, you can pull out the keys or bass, you can seperate the drums from the vocals in every single track, with so much happening in their music, you'd be forgiven for assuming elements of it would be drowned out or smothered but somehow the whole lot of it is brought together perfectly, each element  bouncing off each other, boosting and encouraging, enhancing and pushing the sound further, this stands true even when the band perform acoustically.
If I can't pick my favourite element of the band's sound then it's even tougher for me to single out a particular track so I'll  pick one but I'll cover two versions of it and you'll have to forgive my inability to decide! 
The acoustic version of Shadows stands out for me because it not only displays the bands ability to create a fantastic piece, it also acts as a testament to the vocals of Kirsty who is supported by Andy but aside from that though it highlights just how well they can blend their signature elements together highlighting that even in an acoustic version their sound is mind-blowing. It's incredibly easy to become swept up the music and lose yourself so much so that you're not listening to the words being sung and this acoustic offers a chance for JSR to show their intelligence and creativity, their lyrics are strong, powerful and beautifully sad.
Switching back to the normal version of JSR's 'Shadows' and immediately you get that electro pop rock fix that I've begun to crave. It's immediately obvious just how different this sounds to the acoustic, it's been zapped and cranked with electric keys, bashed with drums and brought to life by bass and guitar. 
 
Their sound is the blood but their passion for the music they so carefully craft is the heart and soul of the band.
In Jet Set Radio, we've not only found a band that creates fantastic music but a band that believes in what they do, they make music not for the sake of it but because they truly seem to love it. If they are next thing to come out of Ireland then we have hopes for the industry in this country, they are without a doubt the best thing about Irish talent and sum up for us everything that was once good about music – if you love what you're doing then what else matters!
Stop whatever you're doing now and sort yourself out with some tracks from these guys and prepare to watch them grow and make it all the way!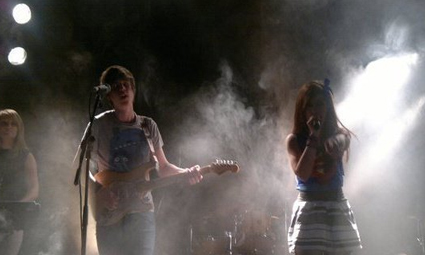 If you or someone you know is in a band that we should know about, if you think our readers should be listening to your music, then you can let us know by contacting, Declan on editor@the-arcade.ie 
Editor-in-Chief, part-time super villain and hoarder of cats. If you can't find me writing, I'm probably in the kitchen!