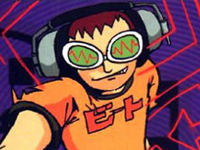 New details and a new trailer for the HD release of the original Jet Set Radio have come to light at this years GDC. The original Dreamcast game is getting a HD make over and will be arriving on XBox Live Arcade, PSN and Windows this Summer.
Over 70% of the original Soundtrack has been confirmed, some of the legals rights to the rest of the music has changed hands over the years and Sega is trying to re-secure them. It's also not just a straight up-res of the original game, The game will feature some new art and music and ALL the extra level from every version of the original game.
Most of the HD remakes have been pretty well done so far, Metal Gear, Ico and SoTC so I have high hopes for this one, and hopefully this will be a success and they will make Jet Set Radio HD next.