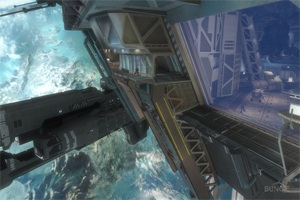 Halo Reach Noble Map Pack
Yesterday marked the release of three new multiplayer maps for Halo Reach: Anchor 9, Tempest and Breakpoint. The Noble Map Pack can be yours for 800 Microsoft Points, including a string of new achievements worth a total of 250 Gamerscore for players to strive to earn. Bungie never fail to please; each map is visually stunning and all around epic from what we've seen, but don't just take our word for it, see for yourself:
Anchor 9 allows 2-8 Players to face off in game variants including Free for All, Team Slayer and Team Objective.
Tempest supports 8 – 16 Players and offers a variety of modes including Free for All, Team Slayer, Team Objective and Big Team Battle. Tempest also provides players with a huge Forge palette, allowing them to create new custom map variants that can be shared with the community-at-large.
Breakpoint offers multiplayer mayhem for 8-16 Players, and supports the Invasion and Big Team Battle game variants.
Still unsure as to whether you should spend your Microsoft points on this shiny new map pack? If the video below doesn't make up your mind for you, nothing will…
Retro Video Game Marriage Proposal
Video-game proposals are growing in number in recent years, becoming ever more creative and intricate. But how many have the nerve to propose while livestreaming a playthrough, with both the gameplay and players in full view? Matt did, via a hacked copy of Earthbound. So nerdy and sweet, this video is sure to get you choked up:
Congratulations to both Liz and Matt, who now have a rather unique memory to add to the many reasons they love Earthbound.
To see the lead up and aftermath you can view the full video here
Kinect & Move Sales
In the first 25 days of its release Kinect has already sold 2.5 million units worldwide, Microsoft has announced. This figure is expected to double before the end of the year. With the holidays approaching fast and Kinect units flying off the shelves at this current rate, averaging at 100,000 units sold per day, it would be no surprise if there were supply shortages before the end of the month.
"We are thrilled about the consumer response to Kinect, and are working hard with our retail and manufacturing partners to expedite production and shipments of Kinect to restock shelves as fast as possible to keep up with demand," said Don Mattrick, president of the Interactive Entertainment Business at Microsoft. "With sales already exceeding two and a half million units in just 25 days, we are on pace to reach our forecast of 5 million units sold to consumers this holiday."
Only a day later, Sony has announced that over 4.1 million Playstation Move controllers have been sold worldwide since its launch in September, averaging at roughly one in ten Playstation 3 owners.
An impressive figure to be sure, albeit over an extended period of time.
With sales figures rising rapidly gamers are eagerly awaiting a wider selection of games to be released so they can utilise the technology they've paid for. Already we've seen that neither can do all that was advertised during the hype leading up to their release, so what do Microsoft and Sony have in store now? A lot, we hope. Otherwise there are over 6 million gamers who will be rather peeved.
The Human Interest Story…
Adult re-usable diapers and Call of Duty
It seems nothing will stand in the way of a dedicated Call of Duty 4: Modern Warfare gamer, least of all not something so simple as the call of nature. Not when you can get yourself an Adult Reusable Cotton/Poly Snap Diaper. Act now and you can buy them together for only $40.11, or the euro equivalent of €30.80.
According to the helpful user reviews these diapers aren't just good for Call of Duty sessions. Who needs bathroom breaks when you've got yourself a diaper?
Don't believe it? Neither did we until we saw it with our own eyes. Go see for yourself, check the Amazon page now!
Adult Diapers – check out the customer reviews!