Home » Music, Reviews
THIS OTHER KINGDOM – SUNLIGHT EP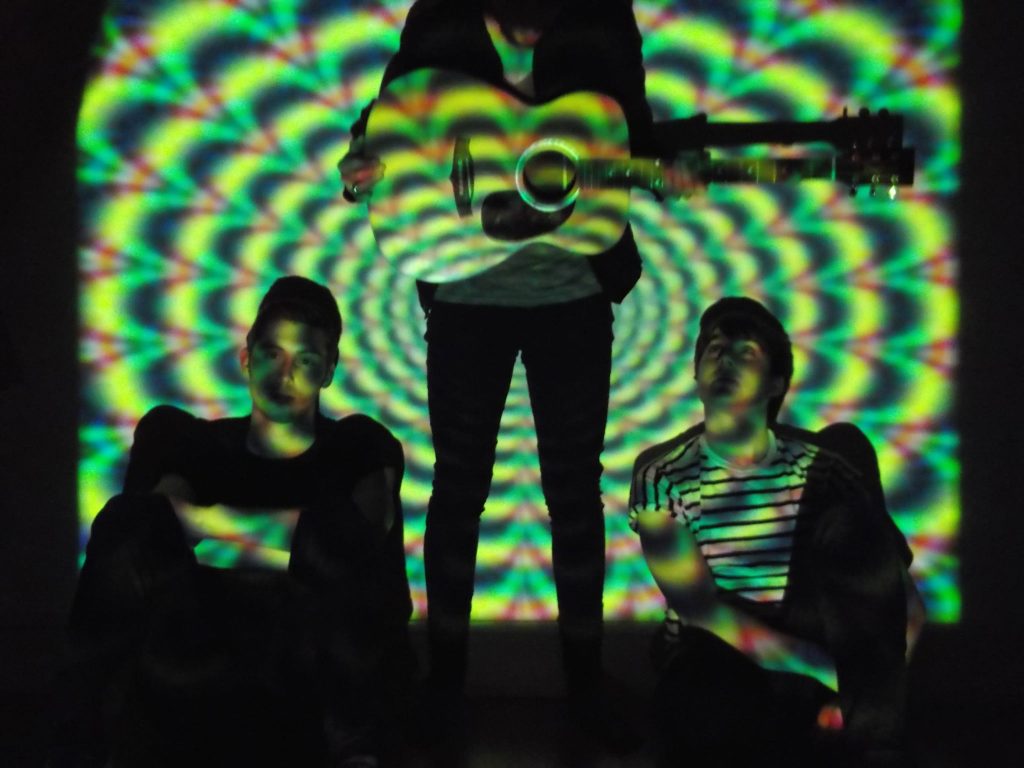 Out: April 13, 2013
According to the many and various sites you can find out about the band from, This Other Kingdom are a group who "fuse together space rock with elements of Indie, Neo Psychedelia, Post Punk and Shoegaze." This raises many more questions than it answers for punters interested in checking out the Dublin-based three-piece – questions like "what the hell is Shoegaze?" for instance – but listening to the band's soon-to-be-released Sunlight EP, any confusion as to what This Other Kingdom are about is quickly put to bed. If you're looking for a big-sounding indie crowd-pleaser wrapped up in an avant garde shroud, look no further.
Things get off to a good start with the stomping I'm Still Here, which deftly combines an echoey fuzz sound with a Kinks-style riff and eerie vocals straight out of Joy Division to create a drifting and haunting atmosphere that gets nicely punctuated by a keyboard-driven bridge, resulting in a kind of contained intensity that will slip nicely into playlists for those long summer festival trips.
Fine Line ladles on the ghostly harmonies and reverb in spades, backed by a pounding bassline – the rhythm section are as tight as you could want throughout the record – and big squealing chords that give the song a vague yet ever-present sense of threat that sticks in the brain.
A big infectious psychedelia-tinged chorus is the centrepiece of the title track, a grim, sloping cut built on a buzzy opening riff and lots of big "oohs!" "aaahs!" and "wows!" that are tailor-made for audiences to scream along with during live shows.
Record closer Vacate The Horror is probably the standout track, though, putting creepy repetitious lyrics to good use over a cool descending chord progression and pounding, percussive beat to create an unrelentingly intense atmosphere it's impossible to deny.
The whole thing is wrapped up in a big stadium-friendly production, creating an identifiable sound that sets them instantly apart from other indie acts today. While the production is replete with the modern-retro stylings that are the fashion nowadays, it never allows them to dominate the songs, keeping the solid core of the tracks from being lost in the potentially pretentious bells and whistles. It makes for a sparse, efficient collection that gets the job and done and leaves, which, at a time when other indie and alternative acts are producing self-indulgent noodling around under the banner of "experimentation", is a very welcome thing.
Of course, it's not without its downsides. While it's clear the band have made the effort in trying to create this signature sound, it feels like that sound has been so set in stone that they seem obliged to stick with it, and the songs do begin to feel samey after the first listen. The harmonies, good as they are, get used far too often and the keyboard elements sound rote and boring at times (so it's a good thing that the keyboard isn't overused). That said, it's tough to judge on the basis of a 4-track EP, and the album, when it drops, may well remedy this problem.
One thing the album is unlikely to remedy is the feeling when listening that, for all the influences they cite and odd styles they combine, This Other Kingdom have one eye firmly watching the charts. There's something about the neat structuring of the songs, the clever use of hook placement, and the type of hooks that pop up that feel geared towards luring attention from punters and other suitors – Sunlight seems almost predestined to show up on a Peugeot advert – rather than adding anything meaningful to the songs. It's not a huge thing, especially for an up-and-coming band in the modern age, but it makes what on first glance could potentially have been one of the most purely alternative releases from this country in a long time feel a little too much like a packaged rebellion for comfort.
All of which won't matter one bit to people who pick up the Sunlight EP or go see This Other Kingdom Live, since overall it provides a welcome injection of difference into the 21st Century indie scene.
(Oh, and just to make sure everythink is clear, here is the Wikipedia definition of "Shoegazing"
http://en.wikipedia.org/wiki/Shoegazing )
Forthcoming Gigs:
March 17th – The Workman's, Dublin 2 (All Dayer)
April 13th – Tower Records In-store, Dublin 2
April 20th – The Grand Social, Dublin 1, Support from Sweet Jane & Hawklion. (EP Launch Night)