Home » Featured, Reviews, TV & Film
Review: Bullet To The Head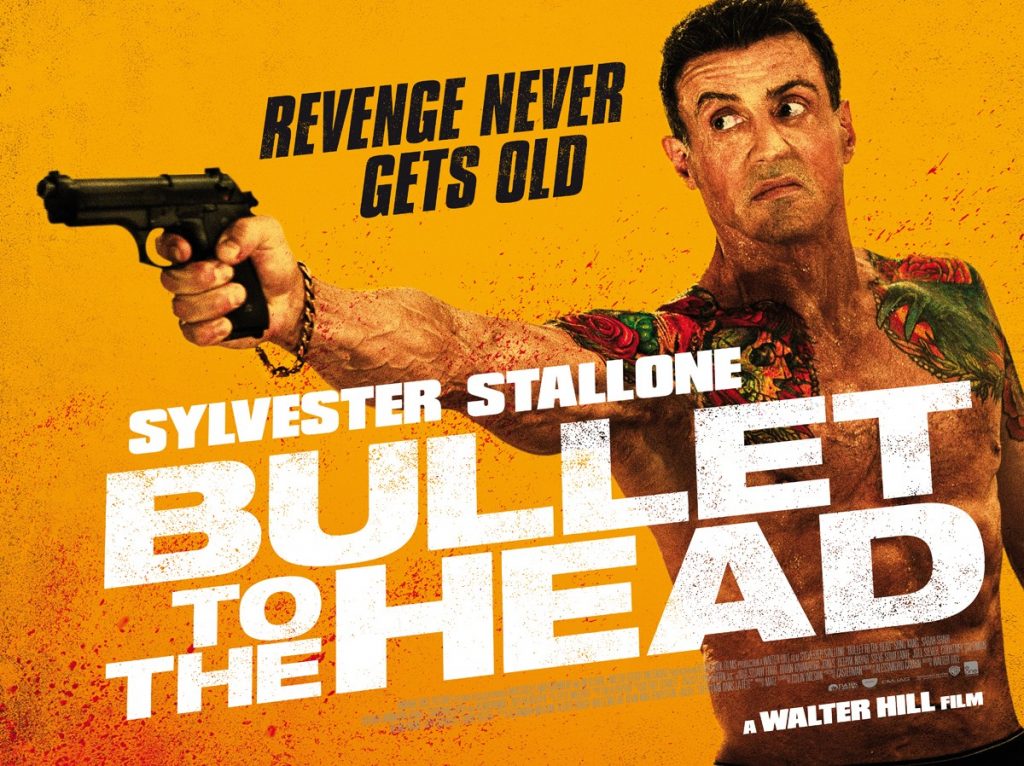 Director:    Walter Hill
Writer:    Alessandro Camon
Starring:    Sylvester Stallone, Jason Momoa, Sung Kang, Sarah Shahi, Christian Slater, Adewale Akinnuoye-Agbaje.
In the press junkets for his first feature since 2002's Undisputed, graphic novel adaptation Bullet To The Head – his first ever with fellow 80s icon-cum-renaissance-man Sylvester Stallone – legendary director/producer Walter Hill has gone on records as saying that most of his films are Westerns (one assumes he's not referring to quirky Ralph Macchio road-trip comedy Crossroads in this case).
So for the purpose of this review, a special scale has been devised to determine whether Bullet To The Head is worth hitting the theatre for, or whether your hard earned cash is better spent on something more productive. It's called the "Leone Scale" and…well you can guess where this goes, so let's get right down to it, shall we?
THE GOOD
Ever since his big return to our screens with Rocky Balboa and the last Rambo picture, Sly has become a bit of a cinematic curio; instead of turning to character roles like many an aging action star before him, his return to big-screen success is built on him revisiting the kind of pictures he headlined thirty years ago, all the way down to the cheesy scripts and ridiculous deaths. But instead of being the handsome muscle-bound superman of yesteryear, he now looks (and acts) like a man who's been through the wars, making his battered warrior schtick both believable and much more watchable.
He brings that same gravitas to grizzled hitman Jimmy Bobo, the film's conflicted but clear cut hero, and one can't help but have their eyes and ears drawn to the screen whenever he's on it. Whether growling out threats at a string of expendable villains, having a moment of crisis over the killing of a witness, or batting quips back and forth with mis-matched cop buddy Sung Kang, Stallone's life-twisted physique and bullish baritone delivery command attention. Sure, he's played the part a billion times before, but he's clearly putting his all into the role, and it shows.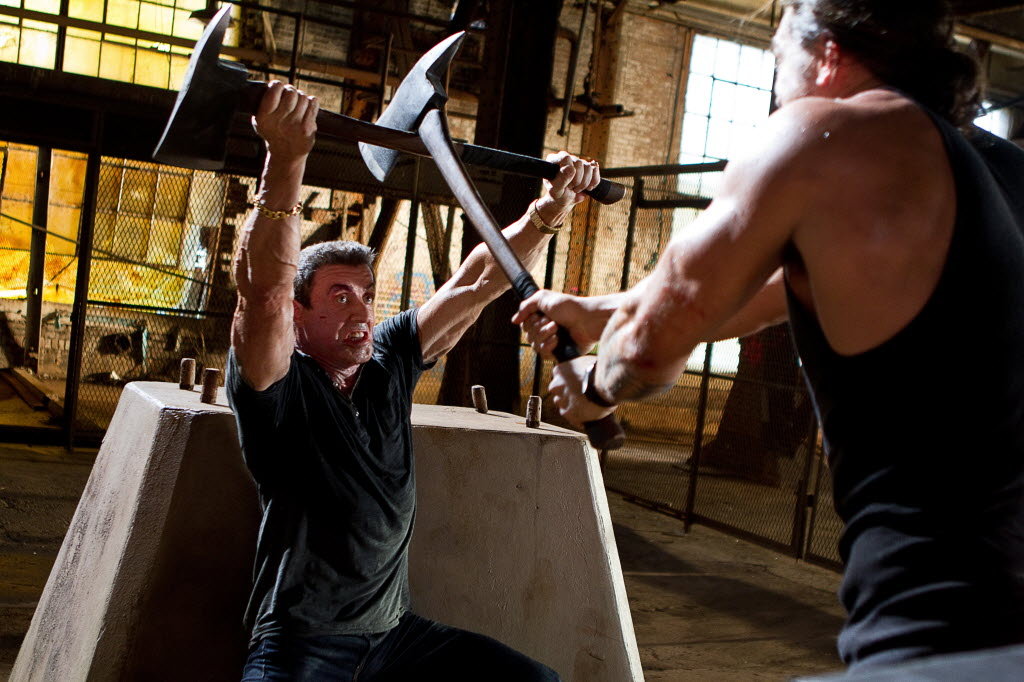 Taking the role of Stallone's burly nemesis and running with it is Game Of Thrones' Jason Momoa who makes up for his limp attempt at Conan with a dynamite turn here, grasping a one-dimensional mercenary character and turning him into a smirking, grinning gorgon, making for the perfect menace leading into his big brutal axe-fight with Stallone in the final act, which is light on explosions but more or less delivers on the gritty snippets offered in the trailer. Though the outcome of the scrap is hardly in question, Momoa is so enjoyably, boo-hiss evil that his eventual defeat provides enough satisfaction to make sense. Christian Slater, who seems to be having fun in a one-note role as a sleazy lawyer who incurs the Wrath Of Sly, also deserves honourable mention.
The film clips along at a good pace, which refreshingly short in a cinematic decade rife with bloated, three-hour epics, and the action gets the job done cleanly and efficiently. The punchy, graphics heavy editing provides a neat mechanic for handling explanations of the villains and the main movers and shakers of the story with a comic book-style page montage highlighting their backstory in seconds, and it boasts a cool, rock-meets-country soundtrack that works well with the New Orleans setting, lovingly rendered in bleary neon cinematography.
THE BAD
Unfortunately, the rest of movie is complete cobblers. The plot – mis-matched buddy heroes on the trail of some drivel about an evil property scheme headed up by Akinnuoye-Agbaje's Big Bad – and the sub-plots – Bobo's relationships with his feisty daughter (Shahi) and squirrely partner, his obsession with "Bullet" brand scotch – are by-the-numbers in the extreme, paid lip service as excuses for fights. They're uninteresting at best, nonsensical at worst, and are not helped by the inclusion of an impenetrable voiceover, seemingly applied to bridge the gaping plotholes and motivations but fails miserably despite Stallone's best efforts.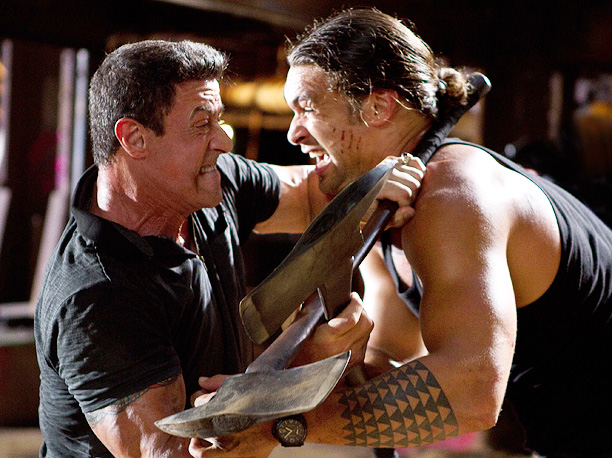 The relationship between Stallone and Kang's straight-laced cop, key to the success of this kind of film, falls flat as well, purely because Kang is lumbered with having to explain everything that's going on (and repeat it. A LOT.) and with a character so dull as to be almost invisible. The verbal tennis matches that take place on his and Bobo's numerous drives from plot-point location A to plot-point location B are ridiculously one-sided, with Stallone handling superior dialogue with aplomb while he plays quiet, vague and boring. It's hard to say the film would be better off without him, when, a few action spots aside, he's barely in it in the first place.
Much of the blame for this can be laid at the door of Alessandro Camon, whose script runs the gamut of dumb 80s clichès without a hint of irony or invention. The two lead cops investigating the murder of Bobo's partner are so obviously crooked it hurts watching Kang try to pretend otherwise, and no sooner has Bobo's daughter appeared on screen (backed up by a useless plot-thread about tattoos) than you can guess that she'll end up tied to a chair as a catalyst for the big shootout at the end. And a scene involving our heroes donning fancy-dress masks to inflitrate a party, meant to be funny but turns out groan-inducing, should have been cut well before production began.
But he's not the sole culprit by any means. When the announcement was made that Walter Hill was returning to the genre he practically invented, the hope was there that his dream-teaming with Stallone would bring back the glories of the 80s. His slack, plodding direction does bring back memories of better times, but only because you're likely to be ignoring what's going whenever Sly or Momoa aren't doing their thing. Watch the assault on Bobo's secret hideout by Momoa and his henchmen, and you quickly realise that this has not only been done to death, but that it was done much better by the same people thirty years before. No amount of fancy editing or pounding music stings (both of which are overused) can divert from the fact that Hill has produced a largely dull and rote actioner that would rank as a decent effort for Steven Seagal, maybe, but is far, far below the standard of his and his casts' talents.
THE UGLY
What's ugly is the muddled end product of what's good and bad about this movie. When the ugly works, as with Stallone's queerly arresting fallen screen-idol features or Momoa's dangerous presence, it's possible to see what the film could have been. But when the ugly doesn't work, as in the clunky plotting or hack-like direction, it's all too easy to see why this type of movie's heyday is long over. And the ugly doesn't work far, far too often.
It's good to have Stallone back in cinemas, but if he continues to place himself in material like Bullet To The Head, then he's likely to be gone again soon enough. Because Stop! Or My Mom Will Shoot 2 can't be far away.
5/10