Home » Anime/Cartoons, Comics/Books, Featured, Games, Interviews, Retro, TV & Film
Interview: A Beads C Start
Arcade: I guess it's important if you could tell us a little bit about yourself first? 
Darren: I'm Darren McDaid creator and co founder of A Beads C Start, I have been an avid gamer since I was young, I first went to an Arcade at the age of 5 in a small town called Buncrana, I remember playing games like Double Dragon, Shinobi, Robocop, Golden Axe and Out Run, its where I found my first love which is something I still love to this day, Videogames!
Arcade: What is 'A Beads C Start'? Actually on that note, why is it called that?
Darren: A Beads C Start came from my crafting of Bead sprites which are videogame characters made using small coloured beads, I wanted to make these at first because I love crafting and creating and decided that I could make a really cool christmas tree using old game sprites as the decorations, after a while a few friends told me that these would sell and I should start up my own craft company and sell them, I took their advice and I have been doing these for over a year now. The name came from an old Sonic the Hedgehog cheat code on the Sega Megadrive, it was for a level select, the code was entered on the title screen like so up, down, left, right, a, b, c, start. Obviously the name Up Down Left Right A Beads C Start would be way too long so that's how A Beads C Start came to be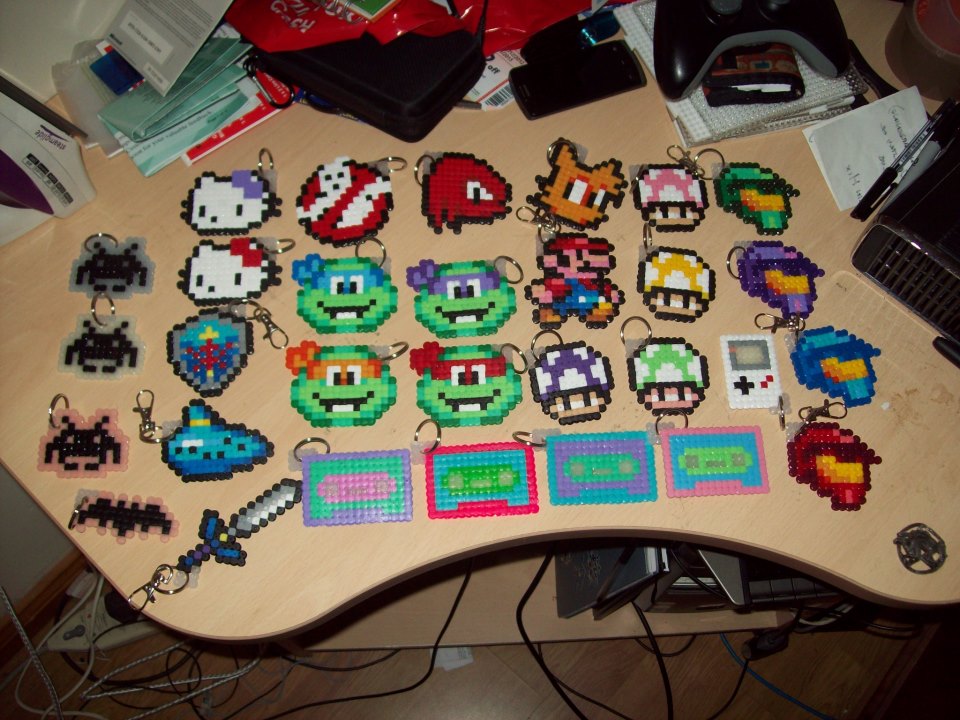 Arcade: Where did you get the idea to start making these bead sprites? Do you have a background in artwork?
Darren: I have been a lover of art since I was young, I collected comics and even liked to draw comic book characters, after time I did the same with videogame characters, I also like working with my hands as I create figures using Blu Tac and also customise figures from time to time, I was inspired by 8-bit art, I made some 8-bit designs using paint of my friends and myself, then I seen that a few people were making these using beads, I decided it would be a great hobby to pick up and I have been doing it since and I hopefully will keep doing that for years to come.
Arcade: Can you tell us about the process in creating a bead sprite? How long does a typical piece take to make? Where do you get your patterns from?
Darren: Most patterns come from a few sprite websites that are found on the net, the most popular one I always seem to use is called the spriters resource as it holds sprites for many games and even has a few custom sprites, sometimes I make sprites just using an every day picture or an idea comes to mind about how to make something from the top of my head, the process is fairly straight forward, I would lay the beads onto a series of interlinking pegboards which allows me to make beads of almost any size, I would then either follow a pattern or lay a pattern down from the image I want and after the pattern is in place I would use ironing paper then iron on top of the bead using the paper and an Iron to melt the bead together, beads can take from 2 minutes if the pattern is small and simple to several hours if they are large and detailed.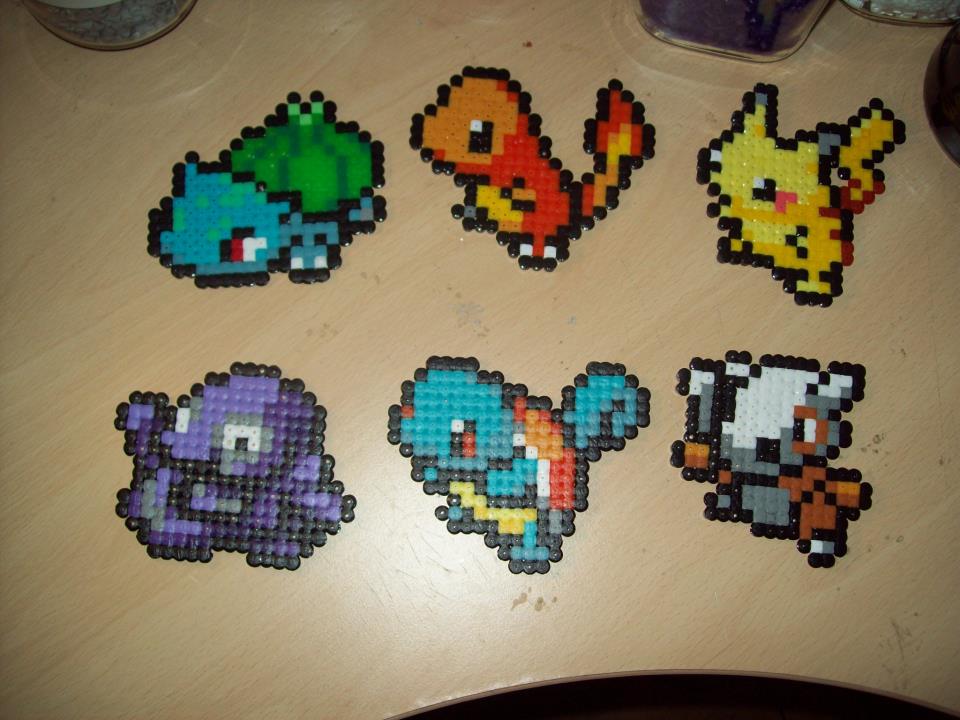 Arcade: Is there anything you can't turn into a bead sprite?
Darren: I am hoping to get a program known as Bead It for the PC so I can take images even of pictures of people and pixelise them to be able to make beads, so far I cannot do that but hopefully soon when I get the software I need the possibilities could become endless but I don't want to get ahead of myself quite yet.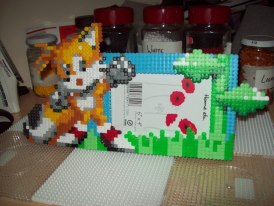 Arcade: When it comes to ordering, how can someone go about it? Do you ship outside of the UK?
Darren: I ship across the UK and Ireland currently, when it comes to ordering people can either leave me a mail with a sprite order they would like, I would then try and come up with an estimate judging by the size and detail, if they are happy with the estimate they can either pay up front or leave a deposit via paypal, I would then proceed with making the required bead, once it has been laid into place I would mail a picture to the customer to ask if they are happy for me to finish the bead by melting it together, if yes then I would melt the bead together and then send a final picture of the product, take the address details on where to send it and then send the item to them as soon as possible which is usually next business day unless there is something needed to send the item like special packaging which may take an extra day or so then ask that the customer lets me know when the bead arrives as I like to know that my items reach their destination safely and securely.
Arcade: Given your love of this type of art would it be fair to assume you've an affinity for retro gaming?
Darren: Oh yes big time, I have several retro gaming consoles and would play on those more than modern day consoles. I guess its because I find more of a challenge and gameplay in older titles where as modern games as much as I do enjoy them feel more like interactive movies hahaha
Arcade: Lastly, if you were trapped in an Arcade for all eternity, what one game would you play to pass the time?
Darren: Anyone who knows me knows that I am a huge Teenage Mutant Ninja Turtles fan so maybe the Original Teenage Mutant Ninja Turtles arcade game from Konami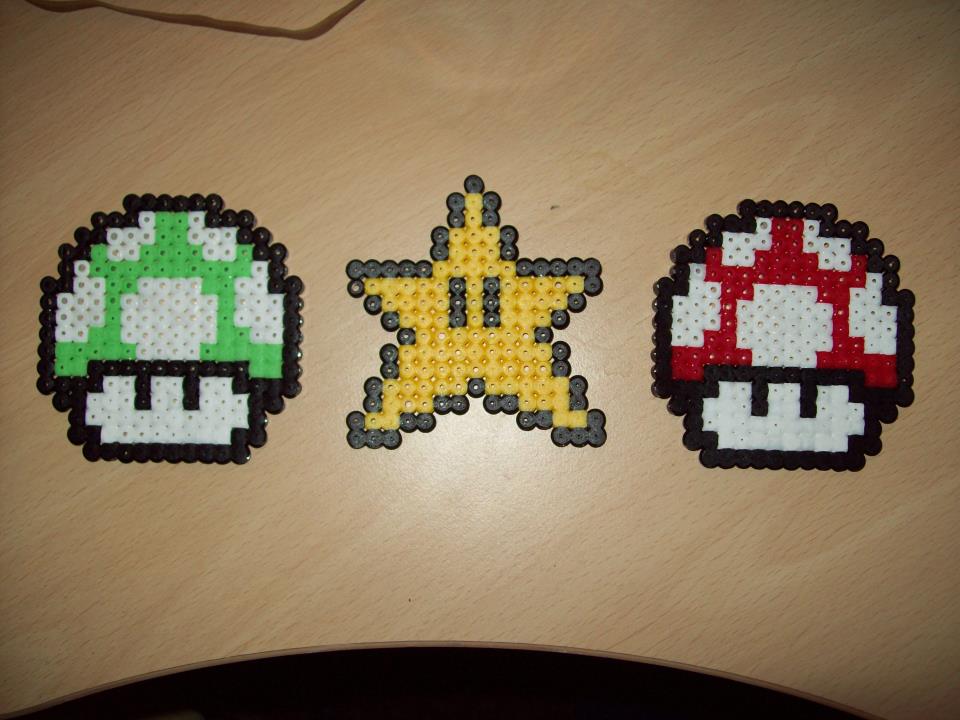 If you'd like to contact Darren about ordering something for yourself or as an awesome Christmas present for a friend or loved one then you can contact him through his Facebook page right here! A Beads C Start Facebook Page!